As many writers out there, when I write I tend to set monthly goals in one way or another to keep myself motivated. Personally, I use the Online Writing Log for this purpose, but there are of course many other apps that will do the same, although differently.
NovProg is one of those apps.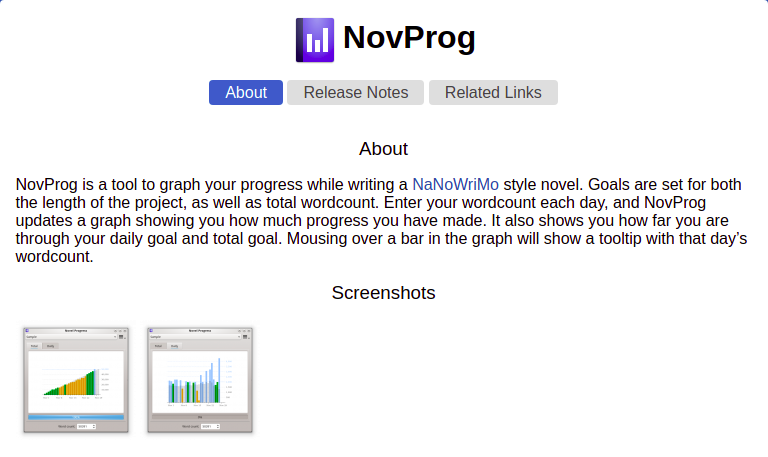 NovProg is a simple app. Create your novel, set your date range and your goal. Then, every day as you write, you record your daily progress. It's one update per day. That's it.
Of course, there's a bit more to it than that.
First, you need to create your novel project. A novel in NovProg contains a few data points related to the project that you are working on. This includes the name, your word count goal and how much you expect to write every day.
You also define the date range for your writing period. This is actually one of my favorite aspects of NovProg, because you're not limited to a calendar month. You can pick any period you want. It would be a week, two weeks, six weeks or six months.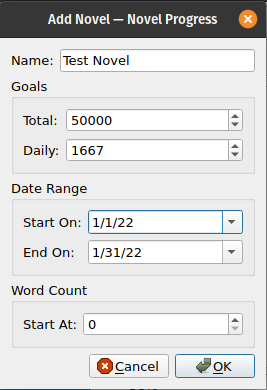 Once you have created your novel, you'll be presented with the novel progress screen, as seen below. It shows the date range and the target you need to hit on a daily basis to get to your goal.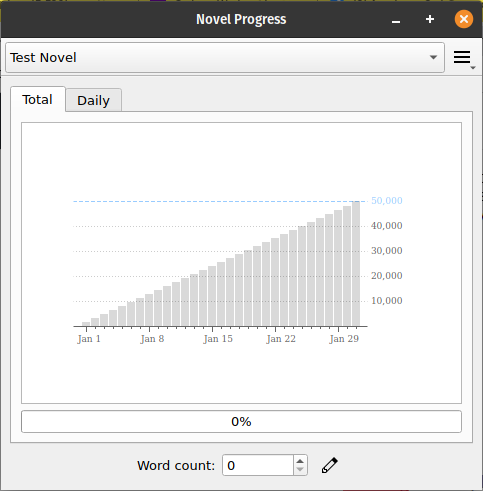 Then it's just a matter of entering your daily word count by clicking on the pencil button at the bottom of the screen. A popup will appear that allows you to enter your word count.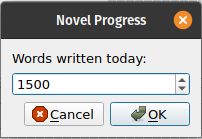 An important note about the daily words: as of this writing, there does not appear to be a way to enter word counts for any day but today. So, if you forgot to enter your word count yesterday, you can't go back. You have to include it in today's word count. That's not a huge issue in itself since it doesn't impact your progress towards your goal, but it will impact the accuracy of the charting in the app.
The Daily view in the app shows word counts by day and how close you are to your daily goal. In the below screenshot, you can see that the 1,500 words I entered above only reaches partway to the daily goal of 1,667 words (indicated by the blue horizontal line). That's 89% of my goal for the day.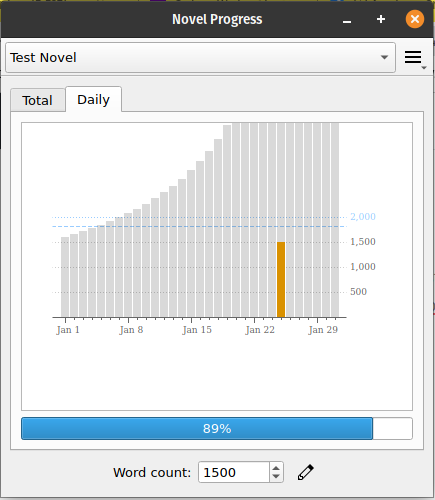 And that's about all there's to NovProg. It's a simple app that's perfect for events like NaNoWriMo, but also your own word count tracking.
NovProg is available for both Linux and Windows. To download, click the link below.