A few years back, about six or so, I participated in the 3-Day Novel Writing Contest. It's a crazy whirlwind experience that takes place over Labor Day weekend here in the USA. To finish, you have to write, format and print (at least back then) a novel in three days, starting Friday night at midnight, ending Monday night at midnight. Tuesday could be used for printing and mailing.
I actually made it. In three days, I wrote about 28,000 words for a story I called Driftwood Key. The story itself is a bit of sci-fi, mystery, suspense and romance, I suppose. It's a mix of everything.
For six years, the story has been sitting on my harddrive, untouched. Until this past August. When I encountered the monthly writing challenge on Twitter (http://www.writingchallenge.org), I was inspired to go back to Driftwood Key, to rewrite it. After all, anything written in three days is not going to be good.
I spent August and September rewriting the story and as I got closer to October I knew I had to do something with it since October would involve prepping for NaNoWriMo. So I made the decision to post my progress on Wattpad and Tablo, two online writing communities where other users can share their thoughts and vote for your stories. It seemed like a good avenue to get some feedback, good or bad.
With the exception of now and then throughout November, I've tried to faithfully post a new chapter every week (current chapter is 12). So far, I've had a modest number of readers but I have also not put a giant effort into that portion yet, primarily since up until today, I've still been working on my NaNoWriMo novel.
Two days ago, I was pleasantly surprised to see that Tablo started featuring Driftwood Key on their "emerging" page, or as they put it: "The best upcoming stories right now on Tablo."
I thought that was pretty cool.
Then, tonight, I'm noticing that Wattpad also is featuring this story in their "recommendations" section.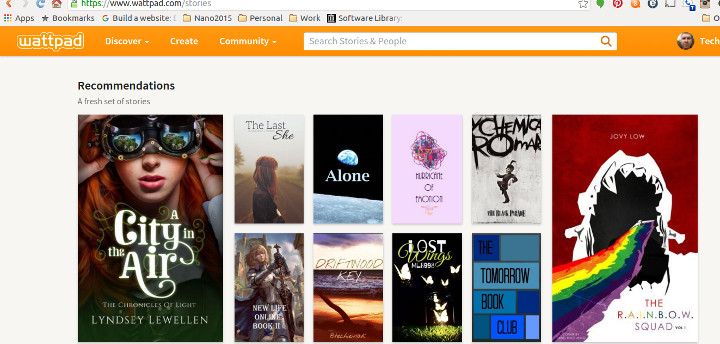 Anyway, this is all very exciting. What does it mean? Well, I'm not sure. Maybe nothing. But, at this point, I'm just excited to see my story on the front page, so to say!
If you're interested in reading what I've posted so far, here are the links:
Tablo: https://tablo.io/mattias-ahlvin/driftwood-key
Wattpad: https://www.wattpad.com/story/47260719-driftwood-key
I'm currently updating the story every Friday night so if you're interested in following along, either of those links will do. I'd love some honest feedback so don't hesitate to let me know what you think, good or bad. Just bear in mind it's a first draft.