Note: This site contains affiliate links to products. We may receive a commission for purchases made through these links.
Over the last couple of years, I've shared my experience using Grammarly with Scrivener on multiple occasions. Although Grammarly has had its own editor, it was never able to load Scrivener projects directly. A workaround for this was the built-in sync function that let a user sync Scrivener writing as text files to an external directory where files could be edited with other text editors on Android or through Dropbox. For mobile devices, Android in particular, the latter still holds true. You can find out how do accomplish that here.
However, the situation regarding Grammarly in Scrivener has changed dramatically since my last blog post about this topic. These days, Grammarly can work in pretty much any application that requires text input, including Scrivener. As Grammarly says on their website, it is now "an all-in one writing assistant that works on your desktop and in your browser. Use it in apps, word processors, email clients, and more."
What Do You Need?
Go to the Grammarly website (link below) and download the desktop client of your choice. As far as I can tell, this works on both Windows and Mac, although I don't have a Mac to verify. The client works with the free version of Grammarly as well, so it doesn't cost you anything to take it for a spin before you splurge on the monthly or annual subscriptions (which are well worth it to me).
Scroll down to the very bottom and select the Grammarly version of your choice. I used the Windows version for this particular post.
Then download the file. You'll also need to register for an account if you haven't done so.
Once installed, just run the application. A splash screen of sorts will appear.
From here you can change the settings of Grammarly, such as writing style, language and a few others.
You can also create a new document through the web application by clicking on the New Document button. However, by doing so, you're moving away from the desktop environment.
At this point, if you open applications that allow you to enter text, such as Scrivener, you will see a little icon in the top right corner of the text entry field that looks like this:
Click on the icon to reveal the Grammarly suggestions, such as those seen below.
You can scroll through the suggestions offered and Accept or Dismiss them as you see fit.
And that, my friends, is Grammarly in Scrivner.
The question is, of course, how well does it work? Since I've just started using this version of Grammarly, it's a bit early for me to say. But, there are some obvious benefits that I see immediately. For example, this version of Grammarly works in other applications as well, so that's an immediate benefit. As I'm typing this in the WordPress editor in Chrome, the little icon is kindly reminding me I have several suggestions to review. Most likely, it'll want me to remove the word "obviously" for the sake of clarity, or add a comma after obviously.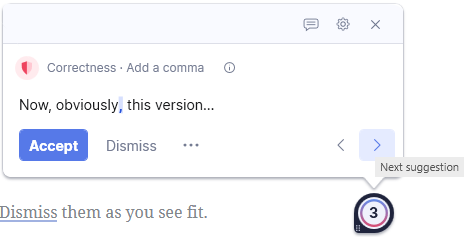 Grammarly also works in Joplin, the Evernote replacement I've used for the last couple of years. For me, that covers three major applications that I use on a regular basis. So far so good, in other words. Of course, mileage may vary.
For me, this change in how the application can be used cuts out the need for the previous workarounds I've detailed here.
If you use both Scrivener and Grammarly, I'd recommend you check it out and support an application that can be immensely helpful in your writing.