June 2021 Update: Updated for Scrivener 3 and current version of Grammarly.

Note: This site contains affiliate links to products. We may receive a commission for purchases made through these links.
A while ago, I explored how you can export and sync your Scrivener projects with an Android device (or any device) for writing on the go. Since then, I've had a lot of positive feedback on that post. It made me wonder whether it is possible to use this sync functionality with other applications that may be useful to a writer, such as Grammarly.
Grammarly is, in case you didn't know, an app that will help check your text for spelling and grammatical errors and suggest changes. It's far from perfect but for me, Grammarly has actually helped me quite a bit with my writing (see my review here). Grammarly is also flexible and can added to Chrome, Word, and be used as a stand-alone app. As such, it can be directly integrated into the environments that writers use for their work, whether it be your WordPress blog, Wattpad story, or the novel you're writing in Word.
Unfortunately, Scrivener is not on the list of supported apps into which Grammarly integrates or supports. So if you want to use Grammarly to check the novel you're writing, you have to copy and paste your text back and forth to be able to benefit from the technology solution Grammarly offers.
Or do you?
As it turns out, you don't. Although Grammarly and Scrivener don't integrate directly, by using the "External Sync" function, you can effectively move text from Scrivener to Grammarly, do your grammar checks and then save and sync it back to Scrivener. The key for this to work, however, is that the text exported from Scrivener must be in Rich Text Format (RTF) for Grammarly to be able to export the corrected text back into the same format. This allows Grammarly to kind of take the place of the Android app I described in the Sync with Android article.
What You Need
You will need the Scrivener desktop application and Grammarly.
Scrivener is not a free product, but usually, you can get a free 30-day trial to check it out. You can give it a try (or purchase directly) by clicking the button below.
Grammary has both a free and a premium option. The steps below will work on both, so you can always give it a try before you commit. Both the web version and the desktop version of Grammarly will work.
One you have downloaded and/or signed up for the above two applications, you're ready to move on to the next step.
Making It Work
1. First of all, set up an external sync folder for your project. You'll find this under the file menu: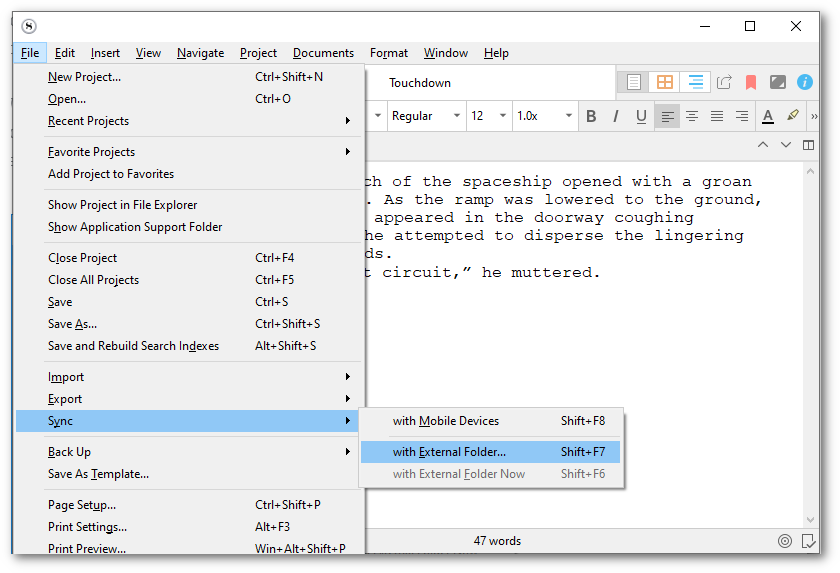 2. Select the folder you want to sync with. Also, make sure that you have selected Rich Text (RTF) as the format for the files.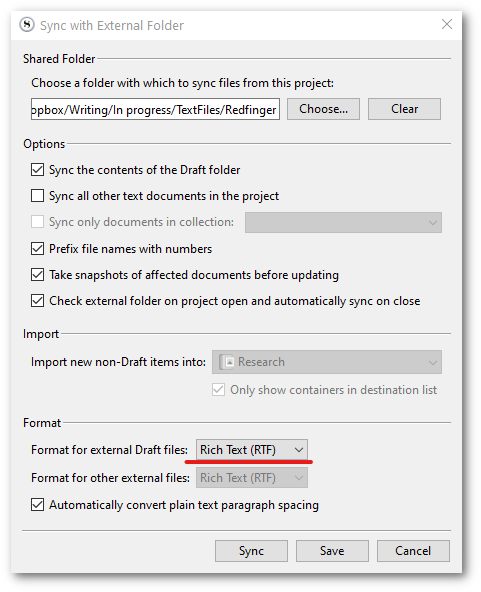 3. Then sync with external folders. This saves the chapters from your project into RTF files that can be read by Grammarly.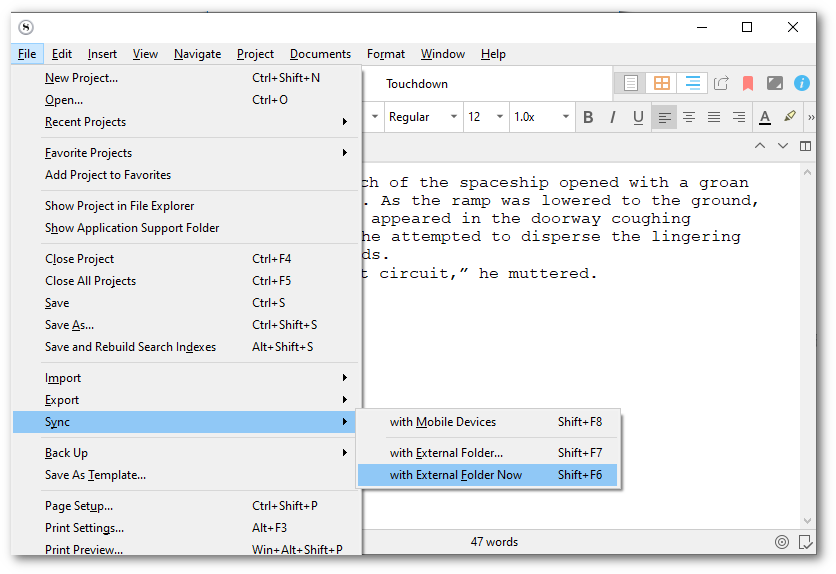 4. Open the Grammarly desktop app and open the chapter you want to check. The files will be located in the sync folder you selected above.
5. Go through all errors the app finds, if any. Make corrections as needed. Remember, Grammarly is not perfect so use common sense when reviewing the proposed corrections.
6. Once you're satisfied that Grammarly has done its job to the best of its abilities, you need to save the document using the Export function. This allows you to save the document as an .rtf file.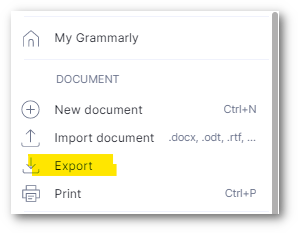 Note that Grammarly will be default add "edited" to the old file name to indicate which your new file is. By doing this, you will add another chapter file to Scrivener. Alternatively, you can also just overwrite the original file.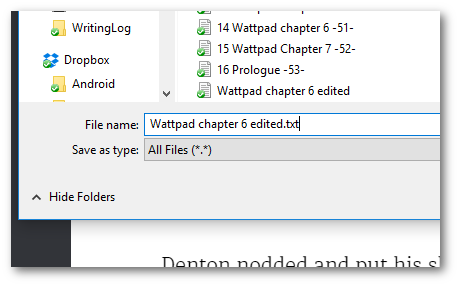 7. Once you have saved the file, go back to Scrivener and click "Sync external folders Now".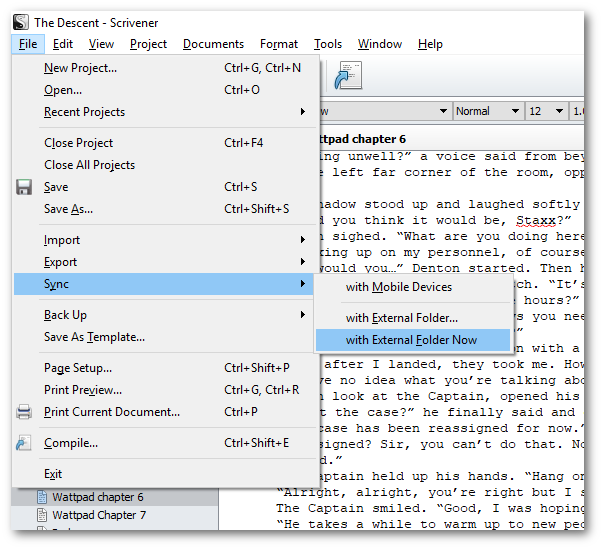 Scrivener should now show you new or changed files. Click on the binder and the new and updated files will be available there as well.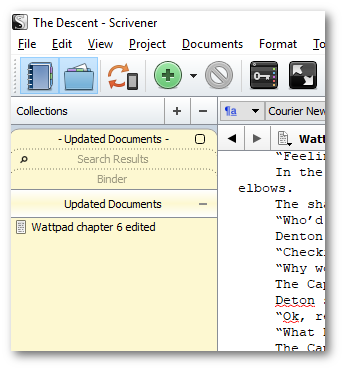 And that's it.
OK so wait a minute, you ask: What's the benefit of doing this over just a straight copy/paste? To be honest, not an awful lot. You can copy and paste and it's going to be just as fast. In fact, if your text is plain in Scrivener, it will be faster to just do that. There are a couple of benefits that I've noticed though.
For one, you can avoid formatting issues that seem to occur when you copy and paste between applications. For example, comments I added in Scrivener that were not technically part of the text showed up in a copy/paste into the Grammarly app. This creates issues when you need to copy the text back into Scrivener.
The above steps also will seamlessly leave you a copy of the original text while saving the edited text as a separate file (if you decided to do so). It's a good way to retain your original writing in case you'd want to go back and reference it later.I should also note that I've only tested this on Windows.
There you have it. In itself, this solution is not revolutionary. In fact, it is mostly just a little trick that can just as easily be accomplished through copy and paste. However, what it does is demonstrate that the sync feature of Scrivener can be used for a variety of purposes which, I think, in itself is worth pointing out.
What do you think? Is this a better way to do this? What other things could you possibly use the sync feature of Scrivener for?
---