A few months back, I explored how you can export and sync your Scrivener projects with an Android device (or any device) for writing on the go. Since then, I've had a lot of good feedback on that post. It made me wonder whether this sync functionality Scrivener has can be used for other things.
One complaint I've seen from time to time is that the grammar checking capabilities of Scrivener leave a lot to be desired. Since I started using Grammarly, I've always wondered in the back of my mind about somehow integrating the two.
Grammarly is, in case you didn't know, an app that will help check your text for errors and suggest changes. It's far from perfect but for me, it's actually helping quite a bit (see my review here). The great thing about Grammarly is that it can be integrated into Chrome and Word, even used as a stand-alone app. As such, it can be directly integrated into the environments that writers use for their work, whether it be your WordPress blog, Wattpad story or novel you're writing in Word. Unfortunately, Scrivener is not on the list of supported apps into which Grammarly integrates. So if you want to use Grammarly to check the novel you're writing, you have to copy and paste back and forth to be able to benefit from the technology solution Grammarly offers.
Or do you?
As it turns out, not quite. Although Grammarly and Scrivener don't integrate, I had a thought: What if Grammarly can import the text that Scrivener exports with its "External sync" function, show what needs to be corrected and then save it back in a format Scrivener can then just sync back into your project?
Lo and behold, this actually works! The key here is that if the text exported from Scrivener is in text format (txt) and Grammarly can export the corrected text in the same format, which allows Grammarly to kind of take the place of the Android app I described in the Sync with Android article.
Here's how it works.
1. First of all, you want to go ahead and set up an external sync folder for your project. You'll find this under the file menu: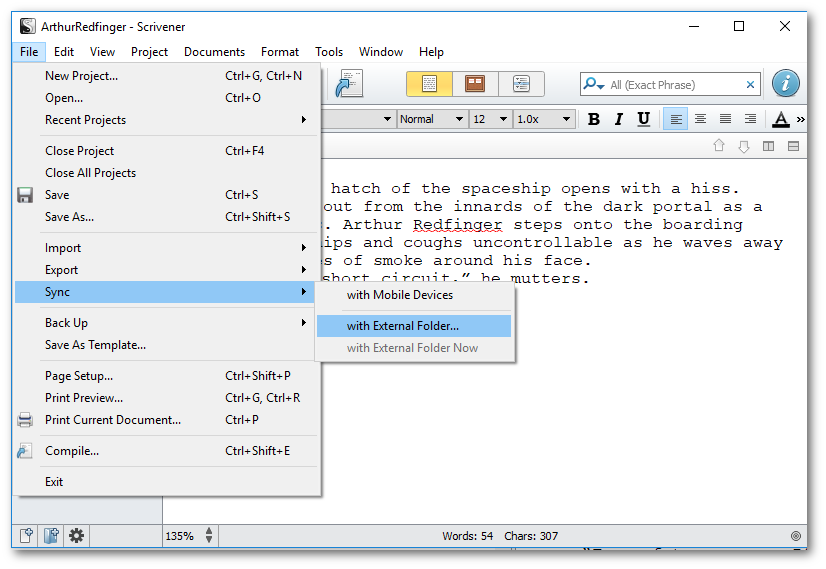 2. Make sure that you have selected .txt as the format for the file format.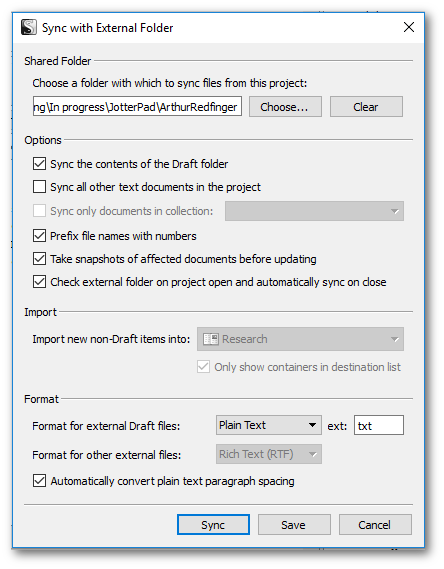 3. Then sync with external folders. This saves the documents from your project with file names that are easier to read in the folder of your choice.
4. Open the Grammarly desktop app and open the chapter you want to check.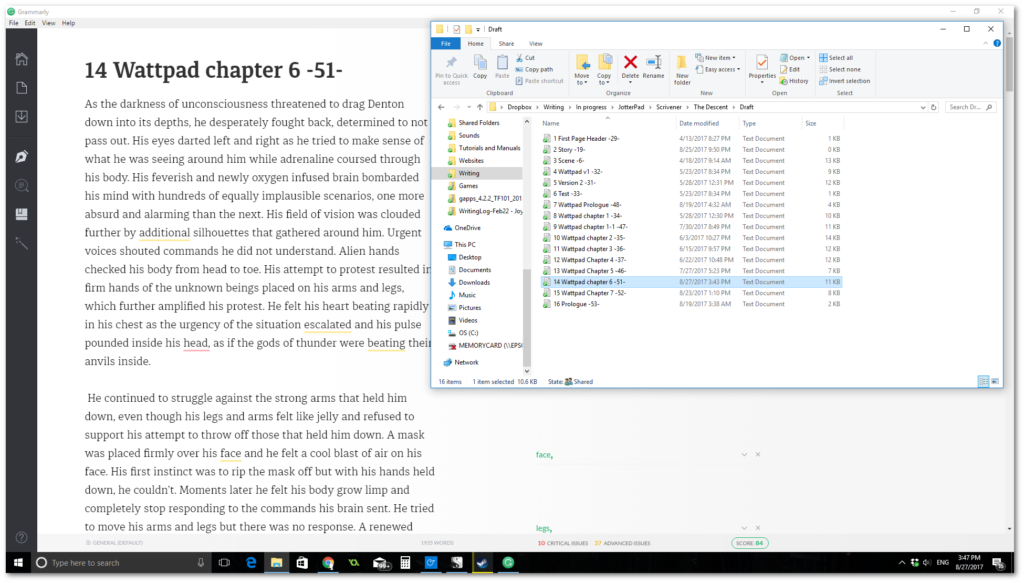 5. Go through all errors the app finds, if any. Make corrections as needed. Remember, not all errors are truly errors. Use your own judgment.
6. Once you're satisfied that Grammarly has done its job to the best of its abilities, you need to save the document using the Export function. This allows you to save the document as a .txt file.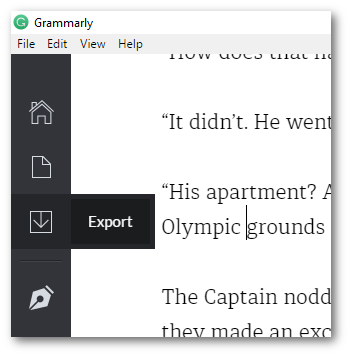 Note that Grammarly will be default add "edited" to the old file name to indicate which your new file is.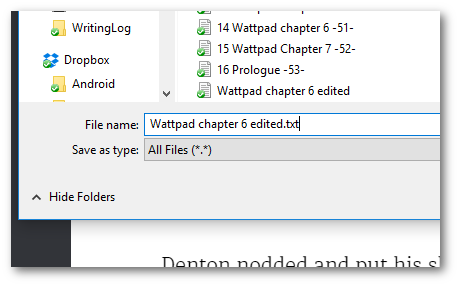 7. Once the file is saved, hop on back over to Scrivener and click "Sync external folders Now".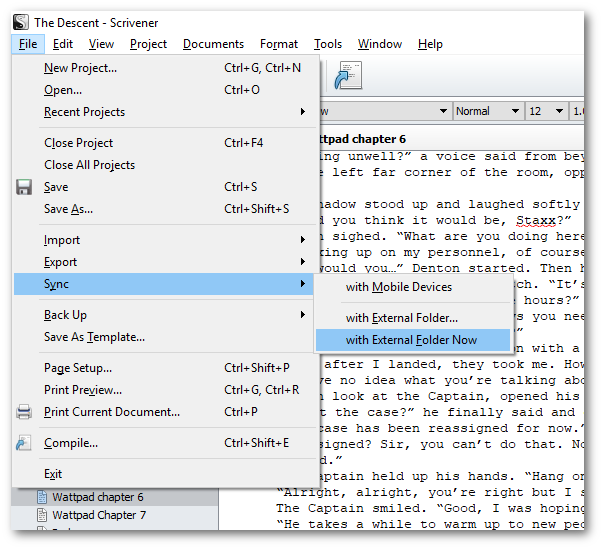 Scrivener should show you new or changed files. Click on the binder and you should also see any changes there.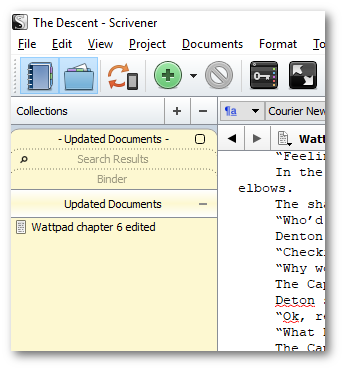 As you can see below, the edited file from Grammarly has now been imported to Scrivener.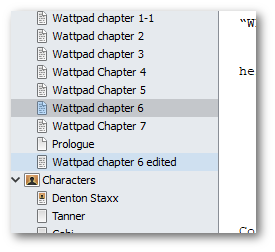 And that's it.
OK so wait a minute, you ask: What's the benefit of doing this over just a straight copy/paste? To be honest, not an awful lot. You can copy and paste and it's going to be just as fast. In fact, if your text is plain in Scrivener, it will be faster to just do that. There are a couple of benefits that I've noticed though.
For one, you can avoid formatting issues that seem to occur when you copy and paste between applications. For example, comments I added in Scrivener that were not technically part of the text showed up in a copy/paste into the Grammarly app.
The above steps also will seamlessly leave you a copy of the original text while saving the edited text as a separate file. It's a good way to retain your original writing in case you'd want to go back and reference it later.
I should also note that I've only tested this on Windows. It definitely won't work on Linux, since the unsupported Linux version does not have the external sync option, not to mention there's no Grammarly app either (unless you run both through Wine). I imagine that on a Mac, it should work largely the way I've described it above.
There you have it. In itself, this solution is not revolutionary. In fact,  it is mostly just a little trick that can just as easily be accomplished through copy and paste. However, what it does is demonstrate that the sync feature of Scrivener can be used for something besides what it was intended for and that, I think, in itself is worth pointing out.
What do you think? Is this a better way to do it? What other things could you possibly use the sync feature of Scrivener for?
---
You can try Scrivener for free. Check it out here.
You can try Grammarly for free. Check it out here.