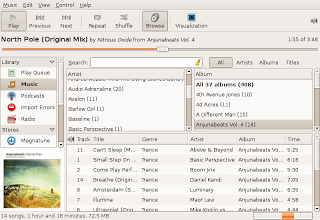 Another chapter in my Ubuntu adventure can be closed. This morning I finally successfully managed to mount one of my shared drives on my media machine, where all my music, videos and photos are kept. A victory!
Here's some links I used to get this accomplished:
https://help.ubuntu.com/community/MountWindowsSharesPermanently#head-fb089c2083e67c8d4de440e5c598792c4cf7c642
http://ubuntuforums.org/showthread.php?t=280473
Now, I've got Rhythmbox up and running, scanning my music and playing it! Sweet! Now, let's see if I can improve the sound any…
Anyway, one step done, several more to go.