To download directly and bypassing the cart system, click the icon below, even if you have an existing account from prior downloads.[wpdm_button_template id=2068 style="blue" align="center"]
When the first version of the Writing Log was released back in March (then known as the Monthly Writing Log), just in time for Camp NaNoWriMo, I knew that there were many other things I wanted to do with this tool.
One of the major limitations from the very start was that the writing log was only really suitable for tracking one month at a time. If you're at all interested in tracking a full year, you'd end up with twelve different spreadsheets or some homegrown mashup to keep it all in one. It made sense that the next version of the tracking log would allow the users to track all of their writing in one spreadsheet with the ability to set individual goals for each month.
Version 1.1 of The Writing Log, as I now call it, allows you to do exactly that. You can now set goals for each new month, different than the prior. You can also, should you so desire, exclude certain days from being considered as part of the daily target. For example, let's say you need to take a break over the Christmas holiday. You enter the dates you expect to not write and the number of days used to calculate the daily target is adjusted accordingly. The screenshot below shows you an example for the 4th of July.
This is where you set your goals for the month and any days you want to exclude.Th writing log itself, where you record your writings, has remained mostly the same. I've moved the tow header rows with target stats over to the right to ensure that various formulas can read the session entries better.
Finally, on the statistics page, or dashboard, I've made changes to take the above into account. In the below screenshot you will now see a new section in the top-left corner that shows month and year. Click on either cell and the dropdown for each cell will appear, allowing you to select the appropriate month and year you want to track. The rest of the charts and tables have also been adapted to the new multi-month approach, although these changes are mostly invisible to you, the user.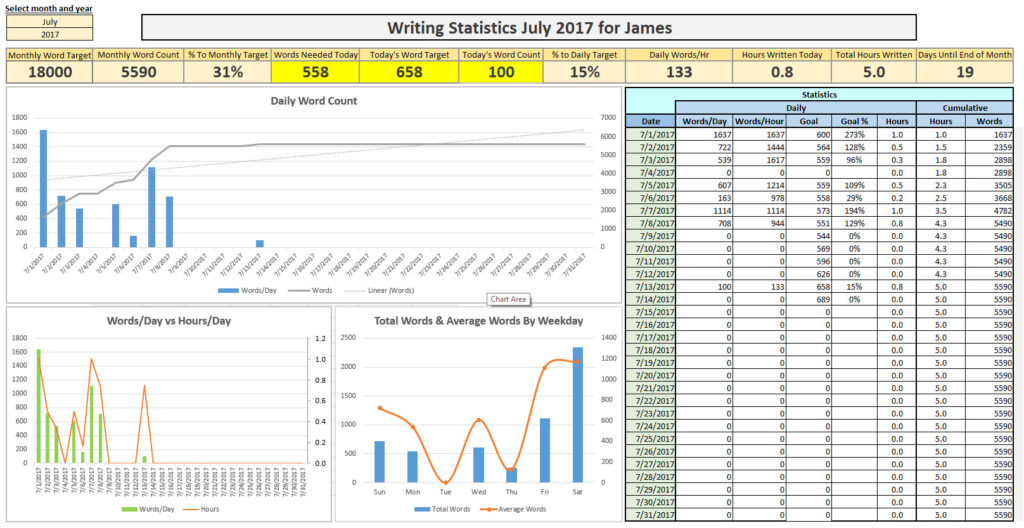 There are several other smaller changes related to formulas and such. There is one important note about compatibility I need to mention. As of this version, OpenOffice Calc is no longer supported, primarily because the dropdowns in the cells won't appear automatically.  Google Docs also has this problem although I'm going to try to find a solution. The spreadsheet should still work if you enter month and year manually so feel free to experiment. My suggestion if you use OpenOffice. Switch to LibreOffice.
The Future
What does the future hold for The Writing Log? Well, I have a wide range of plans to continue updating this spreadsheet. Some of these include:
An annual dashboard: after all, if you can now track a whole year, wouldn't you want to know how you're doing for the whole year for a better comparison month to month?
Project tracking: the ability to add individual projects with their own goals and statistics.
Activity tracking: you do other things than write, right? You edit, proof-read and so on.
FInally, there is an Online version of the Writing Log in the works as well. It is still in an early alpha stage. I'll write a separate post about this in the next few days but for now, here's a teaser video:
All of this, is of course, a whole lot of work on my part. My intention is that The Writing Log will always be a free tool for you, the writer, to use, a tool that I hope can help you achieve your goals. As far as the Online Writing Log goes, my hope is to keep at least a basic version of that free as well.
This is where you come in. If you like what you're seeing with the Excel spreadsheet and the potential for an online log, I'd encourage you to head over to Patreon and support this project. Maybe it's a dollar, maybe five, maybe ten. Every little thing helps. The reward for you? Know that you're helping other writers achieve their dreams while you also can get the chance to directly influence the future of these tools.
The button below will take you to my Patreon page, where you can download the latest version of the Writing Log as well as support its further development if you so desire. You can also simply follow the page since my intent is to keep the progress of future updates on Patreon with larger updates posted here as appropriate.
Visit Patreon to Download and/or Support
You can also download the Writing Log directly from this website by clicking the button below:
Download Here
As always, any questions or concerns, don't hesitate to drop a comment or reach out to me on Twitter. I'm happy to help.