Everyone have their own favorite apps, whether they be games, launchers, productivity apps, wallpapers, sound boards and so on. I am no different. Although the stock Android experience is not terrible, there are so many ways it could be better. Over the years, and especially these last 12 months, I've stumbled over a number of apps that I find indispensable today, apps that I would have a hard time living without. Although I'm sure you, if you are a fellow Android user, may not share my excitement about all of these apps, I'm sure you'll find some of them handy and may even in some instances want to start using them yourself. So, without further delay, let me introduce to you my top indispensable Android apps.
1. SwiftKey
Although SwiftKey is not the app on this list that I use the most, it is one that I have come to value the most. The keyboard of your Android device is always going to be one of the most used apps and it's important to have a good one. I've gone through a  lot of keyboards through the years and finally settled on SwiftKey. With the recent swipe  functionality that was added, it has great prediction and easy typing.
2. Relaunch
Although I have nothing against the stock Android Launcher, or any other launcher for that matter, the part that always has annoyed me is the need to open the Launcher, or "home", just so I can open another app. It's inconvenient. Enter Relaunch.
Yes, Relaunch is also a launcher but not along the lines of ADW, Nova, Go Launcher EX and the likes. Relaunch works differently. Basically you touch the side of either side of the screen and an icon based menu pops out. You drag your finger to the category got are looking for and then to the actual app icon. Once you release the icon, your app launches.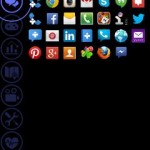 The beauty of Relaunch is that it is available from any app, from any screen. So, if you're in the middle of surfing the web, you can immediately jump to your email, Google+ or whatever the app may be. You can completely skip the home screen. In fact, I have found that as a result, I rarely use the home screen for launching applications, I primarily use it as a data aggregator (which you will understand more in the next item).
3. Chameleon
Chameleon is, just like Relaunch, a launcher. However, it's also more than that. It is truly a home replacement. Chameleon started out as a Kickstarter project that after being funded eventually reached Google Play and the Android masses. Reception has been mixed, to say the least, primarily I think because of what appears to be a very slow development and release schedule. Chameleon is also pretty buggy still.
Regardless of its faults, I love Chameleon. I guess you can say that Chameleon is a contextual launch. The Chameleon team puts it this way:
"[Chameleon] is designed to give you the most relevant information that you want, when you want it."
What this means is that depending of time and location, Chameleon will change it's layout to fit the circumstances. During the day, you may have work related information while at night, it's all about social networks.
Chameleon is not without its fault but it's a lot more appealing the any of the other "standard" launchers.
4. DigiCal
The calendar app on the Samsung that I have is one that I do not like. So, in an effort to find something more Holo-inspired, I went looking for a replacement and pretty quickly found DigiCal.
DigiCal is a very competent replacement for stock or OEM calendar apps. It fits well with the Holo UI scheme, it's smooth and well, it just works. In my opinion, one of the better calendar apps out there.
5. DropBox
With the cloud becoming more and more important, Dropbox is a must. Being able to store, sync and access the files I want on any devices that supports Dropbox is so liberating. I love that, as I did just today, was able to pull up a logo I created at home on my home computer directly on my Android phone and show someone else interested in something similar. I didn't have to go back home, dig around for the file, send it to them etc. Very convenient. Not to mention that the Ubuntu client works flawlessly. A must have.
6. Google Drive
If you have Dropbox, do you need Google Drive? Well, good question. I think the answer is yes. In fact, if Google had an Ubuntu app that was able to sync as Dropbox does, I'd drop Dropbox in a heartbeat. The beauty of Google Drive is that any documents created using Google Docs are saved on there. Documents can be stored, shared, emailed etc. from Google Drive. Your photos from Google+ now also resides in Google Drive, bumping the space of Google Drive to 15GB.  If you are an Android user, using Google Drive definitely makes sense.
7. WunderList
There are tons of to-do lists available on Android. Throughout the years, I have tried many of them. I just never found one that really stuck with me. Until Wunderlist. The thing I like about Wunderlist is that it's available on Android, it's available as a Chrome app, it's available as a Windows app. It's ideal for keeping track of all kinds of things but for me, it just happens to work well with the work I do and that ultimately is why I've kept using it.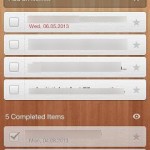 8. WordPress
Obviously, I blog now and then and although I rarely blog from my Android devices, the recent updates to the WordPress app has made keeping track of visitor stats, comments etc. much, much easier. With three sites running on WordPress, the WordPress app is a great way to manage these various sites without always having to login using a computer. If you use WordPress, the Android WordPress app is a must.
Really a trio of apps, Contacts+ replaces your contacts, dialer and messenger app. The primary reason I was drawn to this combination was the messenger app. With the popup window for incoming messages, it's a very convenient way to respond to messages, regardless of what you're doing. There are of course other apps that does the same but the trio of apps in this suite just creates a uniform user interface that I really like. Is it the best option out there? Probably not but I like it.
10. BeyondPod
For many years, I used the podcast player Google supplied (can't remember what it was called). Recently, I was introduced to BeyondPod and when I found it, I saw no reason to look further. It's got a great interface, search functionality, the ability to add external feeds and so on. If you have any interest in podcasts, BeyondPod is worth the price.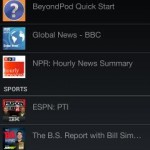 Stay tuned for part 2 of my top indispensable Android apps!