The one thing I struggle with the most when it comes to writing is grammar. I hate it. It is a thorn in my side that keeps poking me as I write, demanding I double-check everything for correct tenses, unnecessary words and all those other things that some people thrive on pointing out. Therefore, I mostly take an imaginary dose of painkiller, ignore the pain and keep writing my stories the way I like to. Once I am all done, well, then I face the uncomfortable and laborious task of checking whether the thorn in my side was real or imaginary.
Although friends and family that understand grammar can be great for pointing out these kinds of things, I would rather spare them the ugly mechanics of my sentence structures. As a result, I have started to explore and employ a variety of software solutions to help me overcome this monstrous beast that is grammar, spelling and correct syntax. Since I figure that I am not alone in my attempts to avoid having to look for these kinds of errors, I wanted to share some of what I have found that has been helpful to me with the hope that you can benefit as well. Some of these programs you have heard of, others you may have not. To be fair to each of these solutions, I will be looking at each of them individually over a series of posts instead of just one post that glosses over all the features of each. A one-paragraph review is not fair to an app when it comes to something complex as grammar.
Note that the tools I will be discussing are not perfect. They will not catch everything. In fact, sometimes their suggestions for fixing errors are not entirely appropriate. They will, however, point out some of the obvious stuff that needs attention. Just remember that no software can truly know your intent when you write so take any advice from software packages on grammar with a healthy dose of skepticism.
With all that said, let's dive into the first app, Grammarly.
What is Grammarly?
Grammarly is an app that analyzes your writing and suggests fixes a variety of grammatical issues. Some of the issues Grammarly can identify are:
Critical grammar and spelling errors.
These are the basic features of the free and premium version.
Punctuation, context and sentence structure (premium only).
Suggestions for enhancing your vocabulary (premium only).
Style checks specific genres (premium only).
As a blogger, this is a highly valuable feature that allows you to use a different set of rules for fiction writing compared to writing a blog post or an academic paper.
Plagiarism detector (premium only).
If you are writing a paper for school, you will appreciate this. It will help ensure your writing is your own.
There are also other features like personal dictionaries. You can add words you don't want to be flagged, thereby avoiding false positives (awesome if you are creating your very own fantasy world).
How do you use Grammarly?
Grammarly can be used in a variety of different ways, depending on what your preference is.
The desktop app (for Windows) is text editor on steroids specifically for grammar checking. Type your text or copy and paste from Scrivener, for example, and watch as Grammarly points out the errors in a panel to the right of your text. The web version works the same way.  In fact, any documents you create and save in the desktop version will appear in the web version. Because of other similarities, I would guess that the desktop version is just a wrapper around the web version. Regardless, it works well. I should point out that the editor is rather basic and as a result, you won't find formatting options, such as font, bold, underline and so on. Although some may see this as a drawback, most writers are likely to use other apps like Scrivener and Word for formatting anyway. In my view, it is therefore just as well that these options are not included. It would make the editor something it's not trying to be.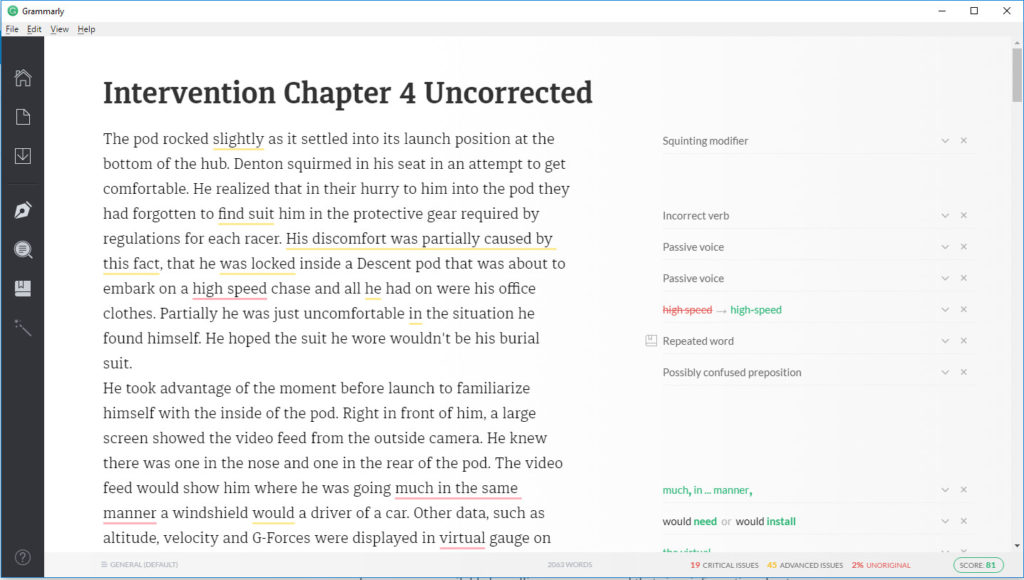 The Chrome plugin is a slick option that lets Grammarly analyze everything you are writing in your browser. Everything you write into a text field in your browser is examined for errors. A little green G is displayed in the bottom right corner of the text field if everything is fine. If any errors are identified, a little notification is shown to indicate how many errors have been found. Simple errors are displayed inline in the text with a red underline, more complex errors are available by pulling up popup panel that gives information about more advanced mistakes. It is fantastic if you're a blogger that spends hours on your WordPress site writing content.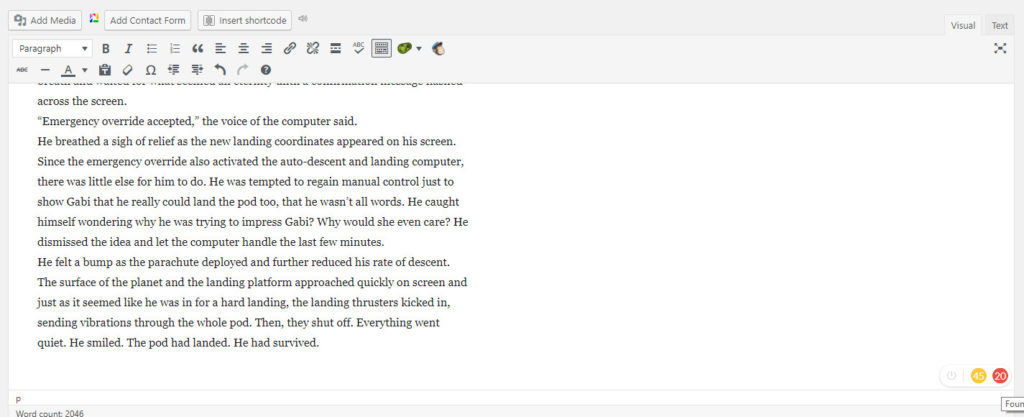 There is also an add-on for Microsoft Word that adds the Grammarly functionality to Word. Just as with the native desktop app and the Chrome plugin, once enabled, the Word add-on shows potential errors in a panel on the right side of your document. A ribbon section at the top of the screen lets you enable and disable the various error checks as well as see the number of errors in the available categories.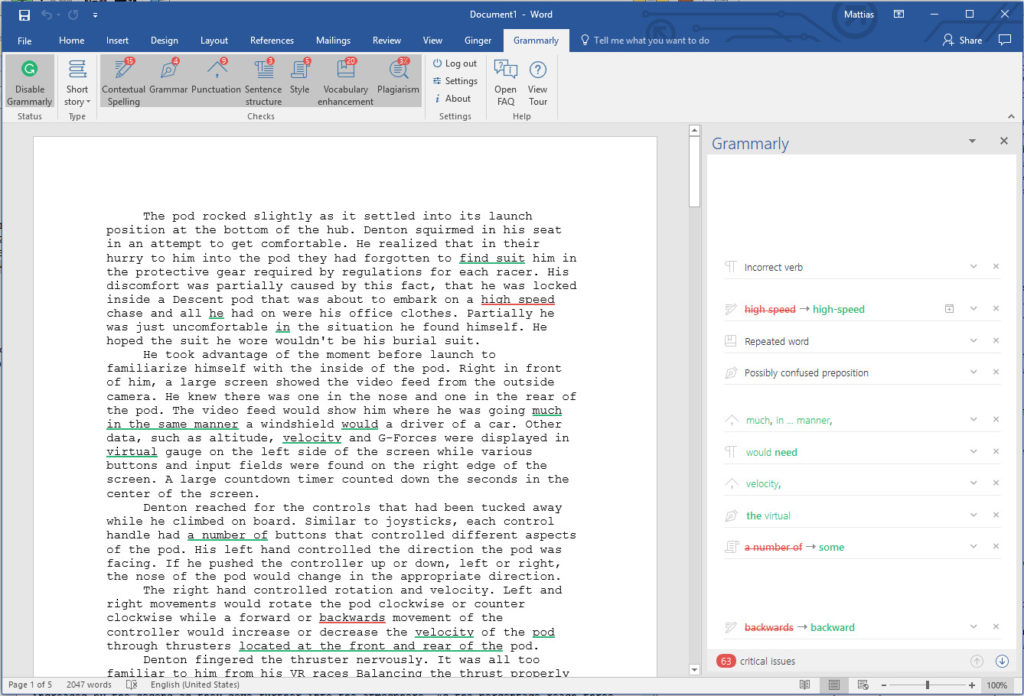 Although Word isn't a go-to app for me in my writing, the very fact that Grammarly integrates so well is enough for me to consider using Word for my writing or, at the very least, the Grammarly editor.
Testing Grammarly
Of course, to really see how an app like this holds up, it needs to be tested. To test how well Grammarly, as well as other apps, perform, I decided to use a chapter of my short story The Descent as a test subject. At the time of writing this post, I had just finished the first round of editing for this story and the only error correction applied to the story had been that of the spell checker in Scrivener. At just about 2,000 words long, it was the perfect candidate for a Grammarly test (for comparison purposes, I will use the same text for other apps in the future).
Once you open a new document and paste your text into the editor (or, just write using the editor as if you were using Word or Scrivener), Grammarly takes a few seconds to analyze your writing before it spits out the problems.
Grammarly rates your writing on a scale up to 100. The errors are divided into several categories which are scored based on the errors associated with your writing. The total score is deducted from the perfect 100. The categories include spelling, grammar, punctuation, sentence structure, style and vocabulary enhancements.
My initial score for The Descent? 81 out of 100 points.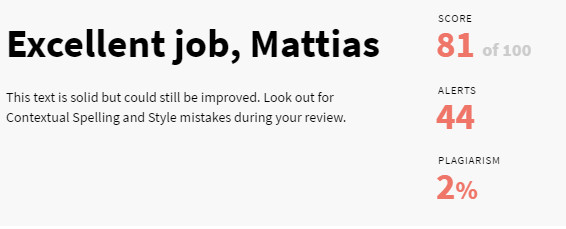 Not terrible, right? The question at this stage is whether all of these are truly errors.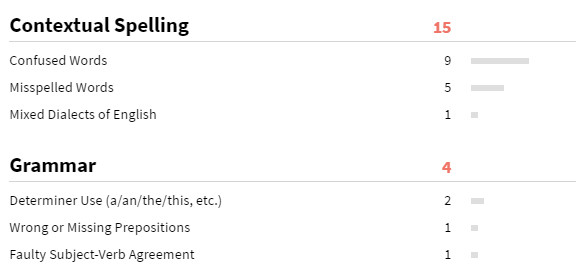 On the spelling portion, I think I did pretty good. I did not expect many of these errors since Scrivener identified most of these before I even used Grammarly. Most of the misspelled words identified by Grammarly consisted primarily of missed hyphens, words like "three-dimensional."
The confused words check identifies words that may not be misspelled, but they are not the correct words for that particular context. For example, "though" instead of "thought."
The mixed dialects portion goes back to one of the settings you can change in Grammarly. Do you write British English or American English? Color or colour? I am not surprised this came up since I grew up in Scandinavia where British English was taught in school.
Surprisingly, the grammar portion only gave me four error points. I usually expect my grammar to be worse, considering English is a second language for me.

Most of my punctuation errors ended up being missing commas. Imagine that. The sentence structure errors showed me missing words or words that maybe should be in a different order. Again, I am surprised at the low error count but at the same time, grateful that it is low. There was, however, one instance related to character dialogue when the correction that was proposed wasn't necessary. When writing fiction, and dialogue, in particular, you can't expect your main characters to know proper grammar. Neither can you expect a computer to know exactly how a character is about to talk.

The style portion is a section where I expected to find more errors. I know from using other apps that I tend to "misuse" passive voice now and then. Grammarly confirmed this once again. Add that to something for me to improve on.
The vocabulary enhancements are also useful. These notifications are not technically incorrect and are, in my opinion, more there as a heads up that "Hey, maybe try to use a different word." If you write fiction, this is one of those important things to be on the lookout for. Below is an example as well as a suggested synonym to use.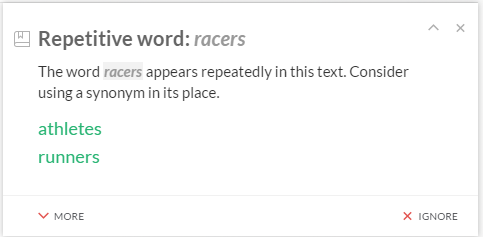 Finally, the plagiarism checker determined that 2% of my short story exist elsewhere online and should be reviewed. I don't think I would worry too much about this checker. What I found was that in most cases, the "existing" sentences were eight or nine-word sentence fragments that are so common that I am not surprised they appear elsewhere online. It was interesting though to see that even Reddit shows up as a reference point. It should be noted that the plagiarism checker is turned off by default and frankly, my personal opinion is that you can keep it that way in most cases.
How does it Compare?
Grammarly isn't the only software suite out there that helps with grammar. The Hemingway App is another popular one, as is Ginger. Even WordPress has its own built-in grammar checker (yes, it's true: press the icon with a check mark and ABC above it). How does Grammarly compare to these, if I use the "edited" version with these other apps as a quick comparison?
First of all, these apps are all a bit different. The Hemingway App is focused on only a handful of areas. I found what even after going through Grammarly, the Hemingway App told me I use too many adverbs and that 25% of my sentences are hard or difficult to read because of sentence length (kind of like this one). The reading level, which gives you an idea of who a great target audience may be, is 7th grade.
The Ginger app found a few more contextual problems but also identified some errors that Grammarly didn't catch. I'd have to play around with the text a bit more to try to determine if Grammarly should have caught these or not, depending on its rules.
The WordPress grammar checker found a few additional missing hyphens but otherwise didn't complain any further about the content.
This cross-reference with other similar apps tells me, at least, that once Grammarly errors are fixed, other apps won't find too many others (with the exception of Hemingway and the adverbs it identified).
Interestingly, not long after I posted the chapter on Wattpad, one of my devoted readers quickly found a handful of additional problems for me to correct. Such experiences tell me that it doesn't matter how many apps you use to check your grammar, they will not catch everything. So, don't expect them to!
Pricing
There is obviously a free version of Grammarly. Because it works so seamlessly behind the scenes, I would use that no matter what, just not to get embarrassed by the simple stuff.
The cost of the premium features, which covers what I've covered in this review, starts at $30/month. You can buy a quarterly option for $20/month, and there is also an annual option for $12/month. As a user of the free Grammarly, I've seen several instances of sales where the annual option was available for almost another 50% off. I think many of us spend more than that in a week on coffee.
Verdict
It's been said that the truth of the pudding is in the eating. In other words, does Grammarly live up to the hype? Did Grammarly make my writing any better?
Well, yes, I would say it did. For starters, I was able to correct many surprising errors. I know that many of the errors Grammarly pointed out I would never have caught myself. By pointing these out to me, Grammarly has helped me see some of the weaknesses in my writing (passive voice, repeat words, punctuation, etc.) that I need to work on. Although Grammarly may not be able to teach me how to properly address this in my writing beyond brief examples, at least I know what my weaknesses are. I know what to focus on. That's a good start.
I should point out that the Chrome extension is not perfect. Although it works great on WordPress sites and even Wattpad, it does not function with the web version of Evernote. The editor on Tablo Publishing site also causes problems for Grammarly. Grammarly also does not work with Google Docs, although it would appear that there is a goal to make that happen at some point in the future based on a note in the Chrome extension itself. In general,  I would say that it works on more sites than not.
Grammarly is also absent in the mobile arena. I couldn't find any Grammarly related apps for Android, which is unfortunate. An Android keyboard with built-in grammar check would be awesome.
Should you try Grammarly? At the very least, you should use the free version. If you're a grammar wizard and are comfortable with your skills, maybe you won't need it. However, my opinion based on my use of the app is that if nothing else, it's a good safety net to have, especially if you're writing to be published or to make money. If you're on the fence, give it a shot for a month. Use a few chapters from a manuscript or a short story. See how it performs. Perhaps compare a draft to the one you completed after feedback from a proofreader or editor.
My take? It's well worth it.
If you want to try Grammarly out, click on the banner below, it'll take you to their website (note: it is an affiliate link). Like I mentioned above, even the free version takes care of the most obvious spelling mistakes and is well worth the few minutes it takes to activate and install. Then go from there.
For an alternative use of the Scrivener sync feature, check out my post on using Scrivener with Grammarly. Read it here:


Disclosure: Grammarly provided a free month of Premium in exchange for an honest review.