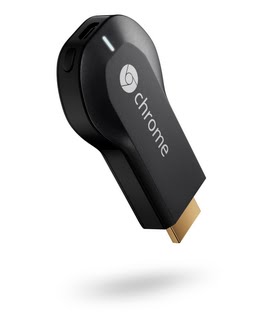 Most of you visiting Tall Tech Tales have undoubtedly hear of Google's Chromecast. For those you that haven't, the review of the Chromecast by TechCrunch summarizes the Chromecast in a paragraph:
The Chromecast is deceptively simple: you plug it into your TV, then stream video and music to it from apps running on your iPhone, Android device, or laptop. The Chromecast itself has no remote; whatever device you're streaming from is the remote. The Chromecast has next to no user interface of its own, either; it's got a single screen that shows the time and whether or not it's connected to your WiFi that appears when nothing is being streamed, but again, the device you're streaming from largely acts as the interface. The Chromecast is a wireless portal to your TV, and doesn't try to be anything more.
What is it really like using the Chromecast? I'll know in the next few days. My unit is sitting in the UPS warehouse in Anchorage right now, waiting to be delivered tomorrow afternoon at some point. Which means that tomorrow night will be full of "flining" videos from my tablet, computer and phone to test this device out.
Stay tuned for my review of the Google Chromecast!