March has arrived and honestly, I can hardly believe we already have two months in the rearview mirror.
The last couple of months have been more productive than I anticipated. January had my highest word count in six months and although February didn't fare as well as I had hoped, I still did pretty good. Altogether, I'm at about 27k words so far this year.
From the perspective of stories, my main focus has remained The Descent. Just yesterday, it broke into the top 100 sci-fi stories for the first time, landing on #91. Of course, it'll bounce up and down quite a bit but it's satisfying to see the slow, steady climb. I've been trying to keep a regular schedule m, updating at least once a week. What I really need to do is make it a specific day but sometimes that just turns out being more difficult than it should be. Overall though, the story is more than halfway done at this point.
One of my goals this year is to get some short stories published. I've got several ideas sitting on the shelf, eager to come alive. I'm just considering which story has matured enough that I can grant its request for life.
I did manage to get a piece of flash fiction out the door, published on www.fridayflashfiction.com. You can read it here:
http://www.fridayflashfiction.com/100-word-stories/retribution-by-matthias-ahlvin
My other major project, the Online Writing Log, continues to progress. The latest update includes project-based goals, a notification system that allows for easier communication of changes, the ability to change the buzzer when you use the countdown timer and much more.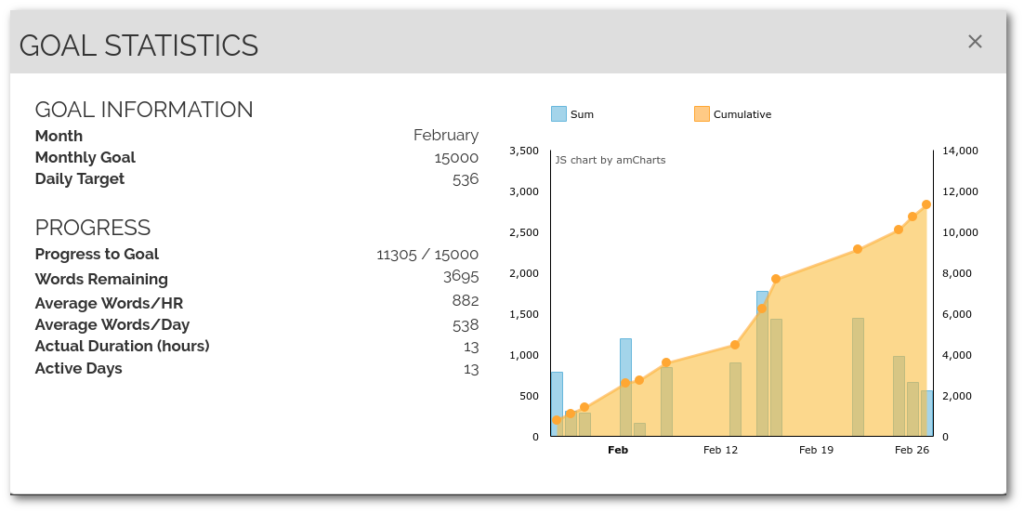 My February stats as a sample.I've also been laying the groundwork for further social features as well as implementing some admin specific tools that you, the user, will never see but tools that I need to ensure the app functions as designed. The number of beta users has also been climbing slowly but steadily, which is great. The more, the better. In fact, if you haven't tried it yet, come check it out here:
Https://www.onlinewritinglog.com
I've also made a decision this year to read more. I'll be splitting this between books I have stockpiled in my Kindle account and Wattpad. So far this year (and late December), I've made it through these excellent books:
On a non-writing note, I've also slowly tried to get back into my art. I've been working on a pencil drawing on black paper, an experiment to see how different it is to use black instead of white paper. It's time-consuming because it's rather large but it's fun at the same time.
Drawing on black paperIn March, expect The Descent to continue, if you're following along.

I will be completing a short story as well, maybe two. I also have some thoughts on drawings related to classic gaming that I'm going to explore. We'll see where it takes me.
I also have a bunch of books lined up for March, naturally,  so we'll see where that goes.
Anyway, for now, time to get back to writing!