The other day, I was doing my rounds on various sites, reading the latest news of the day. As my custom is, I hit up Google News first to get some general news before I dig into the stuff I really enjoy. However, I didn't get too much further because Google ended up give me a good lauch.
Why? For some reason, Google goofed the news.
If you use Google News, you know that on the right hand side are usually a few links to local news. In my case, that's Anchorage. I usually take a peek at these headlines too, even though I get more by looking at the local sites. Here's what I saw (click images for larger version):
In the lower right side column, you can see the yellow highlighted link related to Palin's hockey rink. Ok, so nothing odd about that, right? Sarah Palin is from Alaska, it's not surprising to see her in a headline related to Alaska. One thing to note is that supposedly this article was updated 19 hours previously.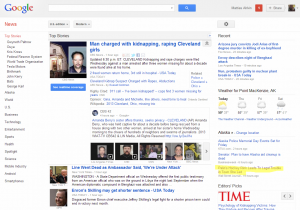 I click on the link and I'm taken to the article shown in the screenshot below. Again, nothing odd, just another article. Until you get to the 4th paragraph, where it talks about Sarah Palin now being the running mate of John McCain.
At this point, I had to read the article over again. Then, I started looking for the date. When was this article written? Note the date circled in red. September 6, 2008.
What?
Yep, an article from September 6, 2008, showed up in the news feed of my Google News. Imagine that. Oh, and if you're interested in the original WSJ article, click here.
The next question: how in the world did that happen?