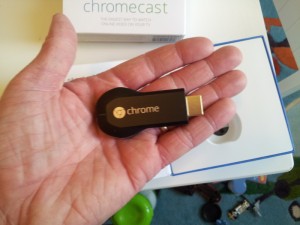 My Google Chromecast arrived yesterday and although I still need to write up a proper review (tonight or tomorrow), the one piece I wanted to mention right away concerns the Chromecast and Ubuntu.
Initially, I feared there would be limitations to systems other than PC and Mac since those were the only ones I saw as officially mentioned. However, I'm happy to report that the ChromecastGoogle Cast plugin for Chrome and Chromium works as expected. Click the button, select your Chromecast and your browser tab shows up on your TV, even content like Hulu.
The piece I haven't gotten to work yet is dragging a movie file into the browser and then watch it on my TV. AVI files play in the browser, for example, but does not show up on my TV.
Anyway, I'll explore this more for my review but in general, Chromecast and Ubuntu plays together!