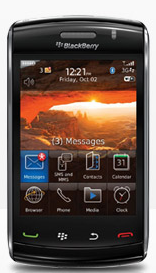 Alaska has had a busy couple of days with multiple carriers announcing the release of additional Android phones as well as the Android 2.1 update coming next week.
As if that was not enough, GCI goes ahead and announced the impending availability of the Blackberry Storm 2 for the Alaskan market.
We have another exciting product launching coming up at GCI, as we will be launching the BlackBerry Storm 2 (GSM/CDMA) in the coming weeks.
The original Blackberry Storm never made it to Alaska and it didn't seem that too many cared. The Storm, although a touch phone, never quite had a reputation as a fantastic touch screen phone.
With the Storm 2, some changes have been made and I'm sure time will tell whether it was enough.