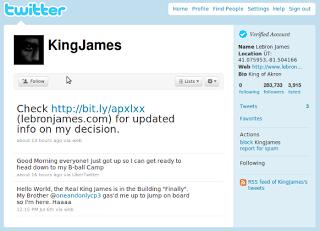 I guess it was just a matter of time before LeBron would appear on Twitter. With his free-agent status and so many rumors flying around about this man, I'm frankly surprised he hasn't joined the band wagon already. After all, there are plenty of other people that I'd say are less famous that have more followers than LeBron.
Of course, that may be about to change.
When I first laid my eyes on LeBron's Twitter account, it had about 80,000 followers and was not yet confirmed as his official Twitter account. That was about 10am yesterday, July 6th. At about 1pm, the account was up over 120,000 and now, at about 9pm on the 7th, he has almost 284,000 followers.
He has stated that he'll make an announcement on live television on Thursday but one can't help but wonder what the role of this Twitter account is. I suspect that by tomorrow, the amount of followers could be 350,000 or 400,000 at least. That's almost half a million fans (or not) that are watching for any news beyond what will be on TV. Really, if LeBron plays it smart, he should keep hyping the account and increase traffic to his own site as well.
So, King James may have been slow jumping into the tweeting but as far as followers goes, he's quickly joining the popular crowd. Time will tell whether he'll actually keep tweeting anything interesting or if it was just a publicity stunt.
Links: