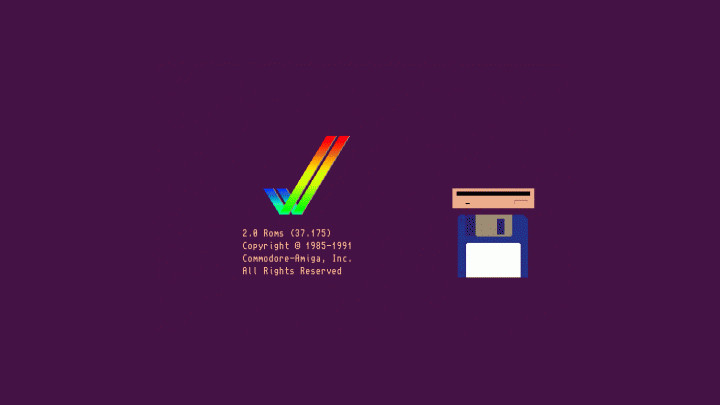 Growing up during a time when computers like the Commodore 64 and Amiga 500 reigned supreme, I have always had a fondness for the old school games of the 80's and 90's, for games produced on limited hardware where the option of adding another gigabyte of memory was not an option. 512K was a lot in those days. It was therefore with interested that I recently watch the documentary that was produced in conjunction with the search for the last E.T. Games by Atari,  rumored to have been buried in a landfill. As fascinating as the documentary was (available on Netflix), it really made me think about the games I used to play growing up. Although I was a bit too young when E.T. and the early Atari machines came out in the late 1970s and early 1980s, I knew the Commodore line of computers quite well…and the documentary made me want to explore that era once again.
On many other occasions I have explored the Amiga emulators available for Android as a means of reliving the past days of gaming glory. Although emulated gaming works pretty well, assuming you have a legal Amiga ROM (Amiga Forever is a good legal source) I also have discovered over time that more and more classic Amiga games are being either ported or remade for other platforms. Cinemaware is one example of a company busy doing that. Defender of the Crown, King of Chicago and most recently the memorable Wings. So, I thought it would be fun to take a look and see how many classic Amiga games are actually available on the Android platform and whether they are just ports or remakes that takes advantage of modern hardware. Note that the list below is by no means comprehensive and if you are aware of any Amiga games I have missed, feel free to leave a comment below and I will add it to the list. The descriptions are directly from Google Play and the comments in italics are my comments about the games based on my memories of them.
I should also note that not all of the games below are necessarily direct ports or even remakes. Some are spiritual successors to Amiga titles and as such, I have enjoyed playing them just as I enjoyed the originals.
1942
1942 is one of those classic shoot'em up games that I remember spending many hours with. The concept is simple: fly your planes through waves of enemy fighters. Thankfully, getting your fill of these kind of games isn't difficult. The Google Play Store is full of them. However, CAPCOM has also published an official version that you can have for just a buck.
Aftertouch Soccer
In my early Amiga years, the Kick Off series of games kept me and my friends entertained for hours upon hours. Although there's no official port to Android, there are a few similar games out there. Aftertouch Soccer is one that attempts to recreate the experience on the Android platform. If you're looking for some Kick Off action, check it out.
Alien Breed
Alien Breed is the classic sci-fi, top-down shooter developed by Team17. Launching originally in 1991, Alien Breed has now been remade for Android which can only mean one thing… it's time to turn down the lights, turn up the sounds and encounter Alien Breed again!
Believe it or not, I never quite got into Alien Breed back in the day. These days, I see the errors of my ways…
---
 Another World
Also known as Out Of This World™ and released across more than a dozen platforms since its 1991 debut, Another World™ has attained cult status among critics and sophisticated gamers alike for its cinematic effects in the graphics, sound and cut scenes.
A CAPTIVATING ADVENTURE
The actor plays the part of Lester Knight Chaykin, a young physics researcher. While he is right in the middle of doing experiments, his laboratory is struck by lighting and completely destroyed, hurling him into another world, a world populated by humanoid creatures, where danger can spring at any moment.
You must escape from this strange civilization. You will nonetheless meet a companion who will soon become your ally and help you in this merciless fight!
Another World as well as Flashback, two games I spend a massive amount of time with. The sense of adventure, of danger lurking around every corner, it kept me coming back hour after hour, day after day. To this day, Another World is definitely a favorite.
---
 Battle Squadron
If you like games like 1942, 1943, SWIV, Sky Force, Air Strike, AirAttack, DoDonPachi, Espgaluda, Hybris, Dangar, Space Invaders, Galaga, Raiden, Xenon, R-Type, or Gradius… you will love Battle Squadron !!
In 1989 it received an amazing 109% rating… in 2012 this legendary Commodore Amiga shooter finally arrives on on Android !!
Here's an oldie that I remember mostly playing with a buddy of mine. I never really played it much on my own but it was fun playing as a team.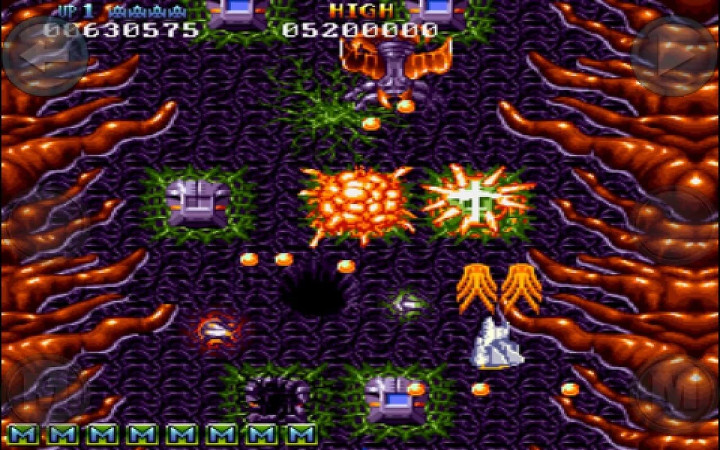 ---
Caveman HD (Lemmings Way)
LETS GO! … OH NO! (or.. YIPEE!)
Just like the original classic Lemmings game, cavemen enter the level through an open hatch and walk aimlessly to their death or around in circles following the path outlined – specific skills can be assigned to Cavemen to create a new path and help guide the others to the designated exit.
Choplifter
In Choplifter HD™ for Android smartphones and tablets, players take on the role of an up and coming rescue pilot asked to join the elite, international helicopter rescue team. Pilots are trained to command a variety of helicopters deployed on more than 30 different missions.
Combining reality with elements of fantasy, missions will range from captured military prisoner extraction to saving survivors of viral outbreaks. Pilots must bank, hover, touch-down and sometimes even shake zombies from their chopper during lift-off in order to make their rescue and complete their mission. Choplifter HD™ dares players to risk their lives to save others.
Choplifter is definitely a classic and one that I enjoyed back in the C64 days. Simple idea and the HD version is not that bad.
---
 Defender Of The Crown
The Age of Chivalry! A time of lusty wenches and black hearted villains. King Richard has been murdered and England is thrown into civil war! Amidst the ringing clash of steel and the thunder of charging steeds the bold Saxon knights have chosen you to lead them into battle against the hated Normans. Victory will not come easy. To save England your skills as swordsman and military leader will be severely tested. But should you succeed you'll win the Crown of England and the love of many a beautiful damsel!
Ah, one of the first Cinemaware games I played. Defender of the Crown was an adventure, strategy, a little bit of action and I spent many hours trying to conquer England. I would love to see a refresh for Android of this game and not just the emulated original.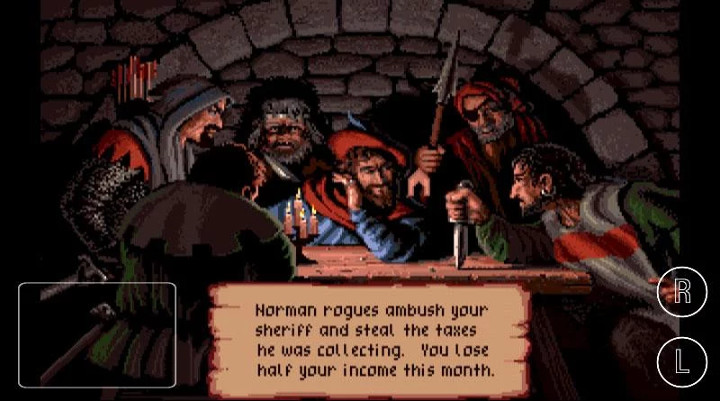 ---
 Dragon's Lair
Now you can experience the best in retro gaming on-the-go with Dragon's Lair on your Android device! Both the phone and tablet editions included for one low price!
Immerse yourself in the visually stunning world of hand-drawn animation adapted from the original smash hit arcade classic. Transferred from the original high definition master film, you'll experience this fully arcade authentic experience right in the palm of your hand.
Although I had a lot of respect for the cinematic experience of Dragon's Lair, what comes to mind is disc swapping. I'll leave it at that. A classic by all means but not one that I played an awful lot.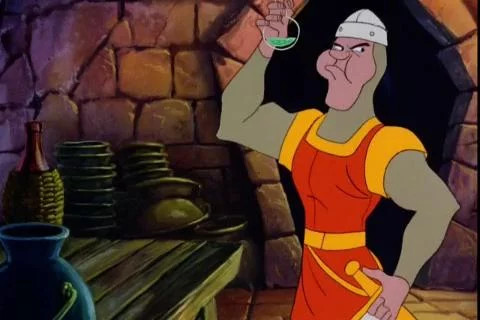 ---
Dune II
Dune II: The Building of a Dynasty (retitled Dune II: Battle for Arrakis in Europe and Dune: The Battle for Arrakis for the Mega Drive/Genesis port respectively) is a Dune video game developed by Westwood Studios and released by Virgin Interactive on Jan 1, 1992. It is based upon David Lynch's 1984 movie Dune, an adaptation of Frank Herbert's science fiction novel of the same name.
While not necessarily the first real-time strategy (RTS) game (elements of which previously appeared in Stonkers, The Ancient Art of War, Command HQ, and particularly Herzog Zwei), Dune II established the format that would be followed for years to come.[1][2] As such, Dune II was the archetypal "real-time strategy" game. Striking a balance between complexity and innovation, it was a huge success and laid the foundation for Command & Conquer, Warcraft, StarCraft, and many other RTS games that followed.
Download link: http://epicport.com/en/dune2/android
---
Final Freeway 2R
Any gamer that grew up with the C64 and Amiga will remember Outrun. Again, no straight port is available but there are plenty of clones.
---
 Giana Sisters
When idols die – legends are born!
More than 25 years ago Armin Gessert developed with GIANA SISTERS one of the first Jump'n Run games for the Commodore C64. The console manufacturers got anxious and tried to stop the sisters. The end seemed close. But they failed and GIANA SISTERS with packaging has become a rare collector's item.
The legend is back, better and bigger than ever before. To use the potential of current devices we improved the graphics and controls. Today the game captivates through its full HD graphic and a new userfriendly menustructure.
The game offers everything a real Jump'n Run game needs. Perfectly balanced for hours of fun on all current Android devices (> 4.0).
Freed from the dust of decades, GIANA SISTERS always retains its cherished style, familiar features and the legendary original soundtrack in a fresh revision. By then the polished 32 fully restored classic levels will cause teary eyes to many fans of the original version!
Giana Sisters is one of those games that I will never forget. A classic platformer (although a rip-off of "other" titles) that I spent many hours with…only to find out that my wife, having played the "other" game, could beat me handily some 20 years later. How does that even happen??
---
Goblins Trilogy
Gobliiins Trilogy is a compilation of three games including Gobliiins, Gobliins 2 and Goblins 3. Released successively one after the other from 1991 to 1993 on PC, thoses point'n'click classics are now available on Android in a new version specifically enhanced for mobiles & tablets.
In the first game, play the adventures of Oops, Asgard and Ignatius (also known as Dwayne, Hooter and BoBo in US) who are looking for a remedy to cure the king Angoulafre. Each character has specific abilities so you will need to play with them alternatively to succeed all the different levels.
In the second one, two goblins have to find and free the Prince. You will alternate between two diametrically opposed characters once again to reach your goals! Finally, in the last game and certainly the funniest, you play as a journalist goblin in charge of a report about the conflict between the queen and the king. However, a forced landing will upset his life: he fall in love with the Princess Winona and find himself in conflict, and then was bitten by a werewolf…
I only ever played one of these titles and as good as the games are, I never really got attached to them.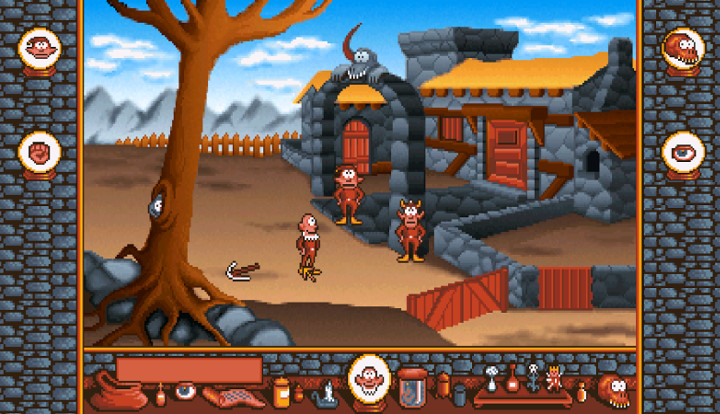 ---
Leisure Suit Larry
Leisure Suit Larry in the Land of the Lounge Lizards was first released by Sierra On-Line in 1987 and be-came an international phenomenon. The lovable loser Larry Laffer — a 40-year-old virgin in pursuit of losing his vir….um, finding true love — and risqué humor were unlike anything anyone had ever seen or played.
Now Larry's original creator, the world-famous game designer Al Lowe, has teamed up with Sierra Veteran Josh Mandel, to bring this amazing, perverted game back to life – updated and expanded in every way imaginable! All we kept from the original game is the plot. EVERYTHING else is fresh and new.
Ok, who hasn't played the Larry series? As young adults, me and my buddies spent many hours on this and other Sierra adventures. In fact, it was on games like the original Larry, that required typing, and games like Space Quest I, King's Quest etc. that I really learned English. I spend many hours with a dictionary in hand, trying to understand all the puzzles and what the proper thing to type would be. A classic, even though it's all point and click these days.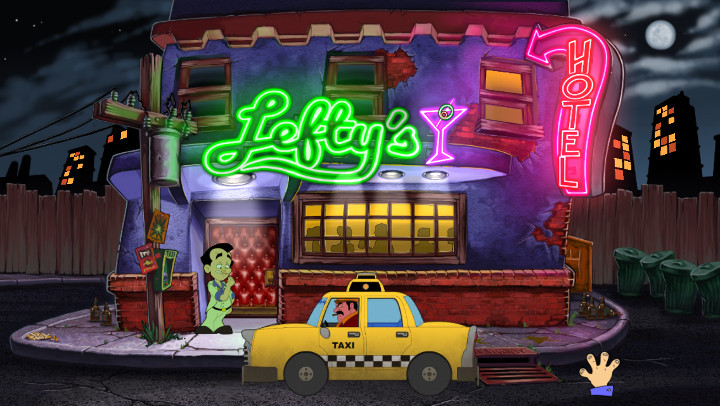 ---
North Vs South
In the colorful strategy game The Bluecoats – North vs South, you play the head of one of the armies of the Civil War. Your aim is to conquer American territory !
This is a remastered version of the game that was released in 1990, with improved graphics and user-friendliness that are up to current standards.
This was another top game of the Amiga era. I played this over and over and over again with a buddy of mine. Simple as it may be, it was quite a bit of fun.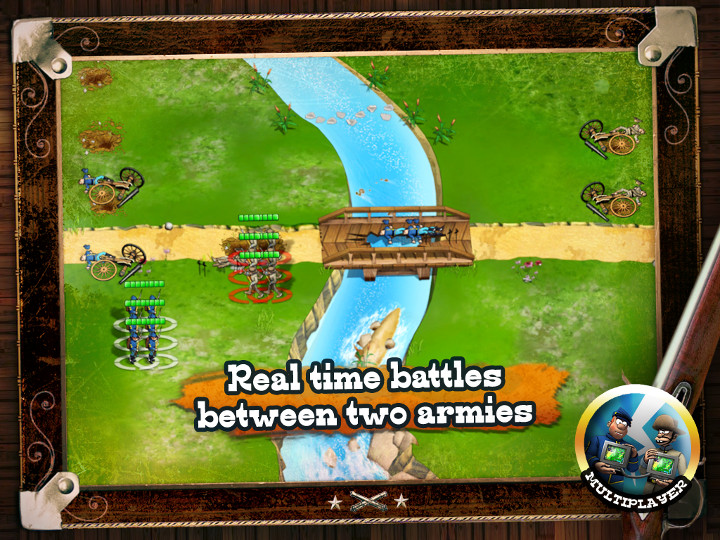 ---
Ports of Call
Finally Ports Of Call the classic trade simulation game from the Amiga time made it onto Android devices. We tried to be as close as possible to the orginal (its really the SAME kernel code), in terms of original grafic and behavior.
Being successful, making lots of money, that's how I saw Ports of Call. It was a fun game of trade in order to expand your empire to make even more. The Android port is pretty close to the original, low res graphics and all. I do have to say that playing the port, I was a bit disappointed. These days PoC just doesn't have the depth it did when I was younger. It's still a great game though.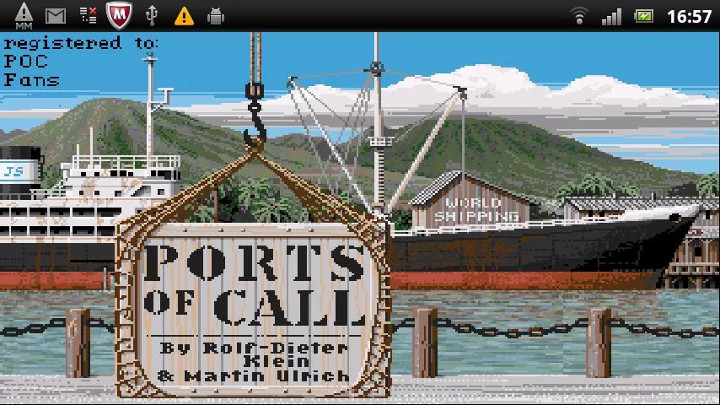 ---
Prince of Persia
Uou are the Prince of Persia on a daring rescue mission to save your Princess.
Fulfill your destiny, play this game, and experience the thrills and adventures of this classic tale
Features
Old tale, New skin
Replay the adventure of the original Prince of Persia in a complete new skin as you battle your way through the dungeon to rescue the Princess.
Perform death defying stunts as you proceed from the dark and grim dungeons to the beautiful Palace tower.
I only ever played the original briefly. I remember liking it but didn't spend an awful lot of time on it. Therefore, I haven't done that with the remake on Android either.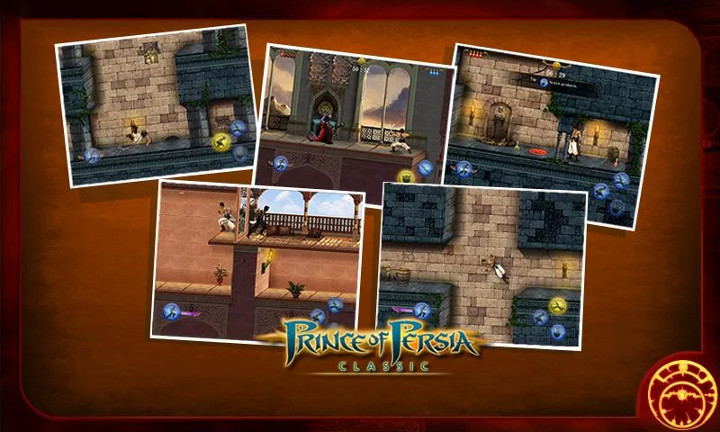 ---
R-Type 1 and R-Type 2
Let's go back in the 80's with this classic old-school shoot'em up! One of the biggest arcade game will make you travel back in the day. Be ready to have fun with this old-school side-shooter game!
R-Type II is a horizontal scrolling shooter arcade game developed and published by Irem in 1989. This classic old-school game is the sequel to R-Type and the story takes place two years after. The player controls a ship called the R-9C which is an improved version of its predecessor, the R-9.
The Bydo Empire is back! Take it down with power-ups, two new types of weapons, the Search Laser and Shotgun Laser, and a new anti-ground unit bomb.
R-Type I and II, these are games I spent quite a bit of time on. Space shooters of all sorts kept me occupied for hours and it's great to see them come back to life. I'd love to see Project X…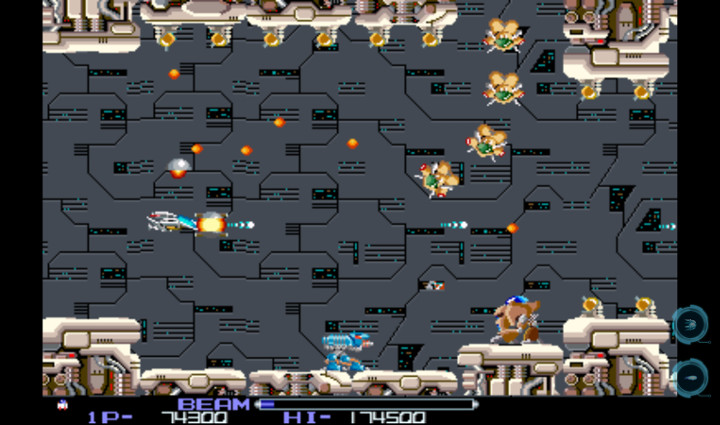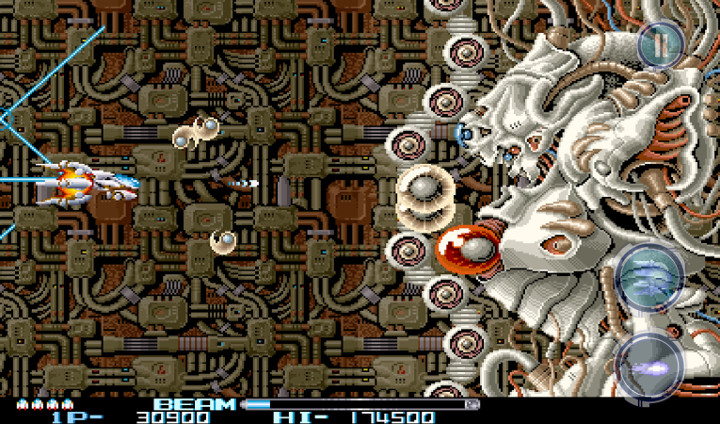 ---
Rick Dangerous
XRick is a clone of Rick Dangerous – an old arcade game, quite tough.
Rick Dangerous is my first memory of Amiga gaming. Indiana Jones with a different name, that's how I saw it at the time. It's a game I spent countless hours on playing and truly enjoyed,

---
Rocket Ranger
A Master Race from Outer Space Threatens the Free World!
With the zapping of ray guns and the cries of Zombie Women, Rocket Ranger brings all the action, romance, thrills, and spills of the Saturday morning serial! The action begins with an urgent message from the future. . . a future that saw the National Socialists win Word War II! An underground group of scientists in the 21st century risk their lives to send you a jet propelled rocket suit, ray gun and secret decoder wheel. Skilfully used against a cunning and ruthless foe, these devices help you change history and save mankind!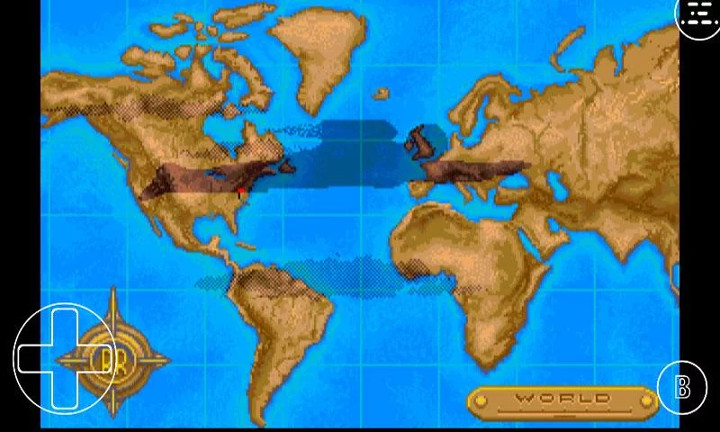 ---
Shadow of the Beast
Originally published by Psygnosis in 1989-1990 Shadow of the Beast was a side scrolling platformer and featured not just revolutionary graphics but an atmospheric score by David Whittaker. So now you too can play the latest multi platform release and see why this was one of the greats!
Note that SOTB is not available on Google Play. Click the link below to download.
Download: http://www.indieretronews.com/2014/10/shadow-of-beast-legacy-popular-remake.html
---
Simon the Sorcerer 1
"DEFINITELY amongst the 10 BEST adventure games of ALL TIME" – ACG (Adventure Classic Gaming)
There are some things that kids just shouldn't have to put up with. Being transported to some weird dimension full of goblins, dwarves, swamplings, stupid wizards and sleeping giants is definitely one of them.
After escaping a "welcoming party", Simon discovers that he has been brought on a quest to rescue the wizard Calypso from the evil sorcerer Sordid.
Simon the Sorcerer I only got introduced to towards the end of the Amiga era. In fact, it was one of my first CD based games. It was pretty cool. Unfortunately, something was wrong with the data on the disc so I could only ever play to a certain point and by time I discovered this, I had already moved to the USA and the disc ended up getting lost somewhere.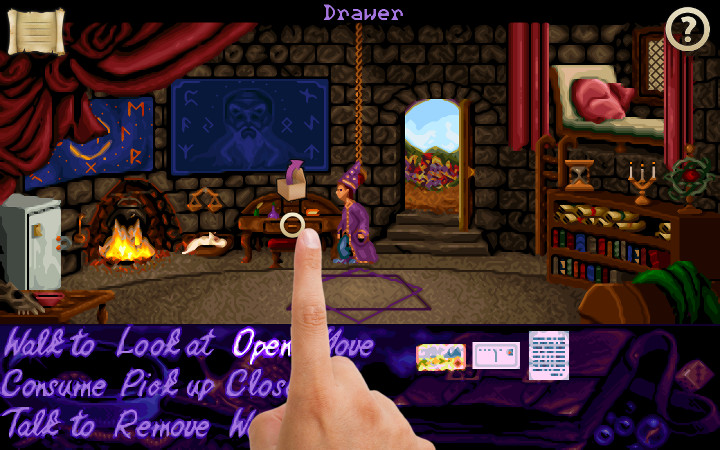 ---
Simon the Sorcerer 2
"EVERY serious adventure gamer should have played this game." – AdventureGamers
"WELL WORTH of your time and money" – ACG (Adventure Classic Gaming)
Following the success, media praises and high user ratings of the first adventure of Simon the Sorcerer (also available on Google Play), we proudly present the next instalment.
Just when he thought his life was regaining some semblance of normality, Simon's wonder years are once again turned upside down when the evil sorcerer Sordid returns from the grave with only one thing on his mind – revenge!
Sordid reconstructs his Fortress of Doom and sends a magical wardrobe to fetch Simon, but it accidentally ends up on the doorstep of Calypso, the wizard Simon had to save in the first game. Simon then starts to look for a special fuel that can power back the wardrobe and get him home.
Journey with Simon through this inevitable sequel to the best selling Simon the Sorcerer, as he manages once more to get stuck in a land of twisted fairytales, recycled gags and carbon dated clichés!
With a cast of thousands (mostly woodworm) and enough Swampy Stew to keep an underprivileged country sick for a year, this classic adventure will keep you well entertained until we manage to make another sequel.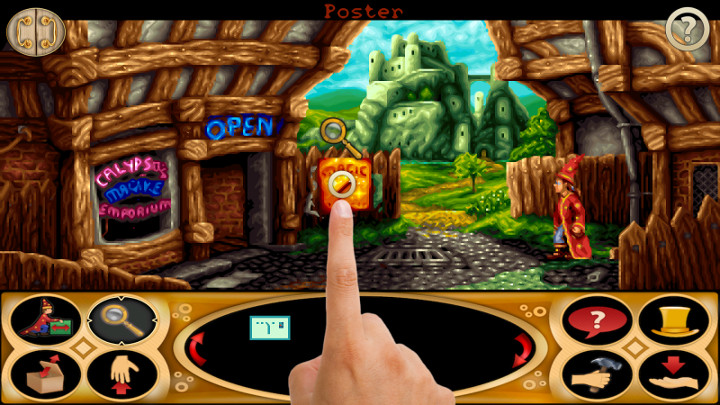 ---
Spy vs Spy
SPY vs SPY is based on the original, multi-million unit selling, break out hit by First Star Software, Inc. It features Wi-Fi multiplayer matches, a pixel perfect retro mode as well as a modern mode, both with the famous black and white spies from MAD Magazine. Choose joystick or other touch controls.
This app offers in-app purchases. You may restrict in-app purchasing using your device settings.
SPY vs SPY is the ultimate action/strategy game!
This was very much a buddy vs buddy game for me. Many hours chasing each other around. Many fine memories with this game.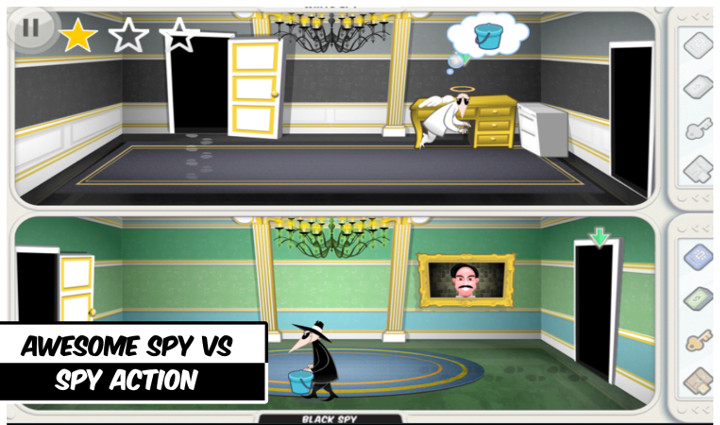 ---
Superfrog
Superfrog HD is an update of the classic side-scrolling, platformer, reimagined with enhanced HD cartoon style graphics & fun gameplay.
In 1993 the world witnessed the birth of a new type of super hero. Now, twenty years later, Superfrog is back!
Superfrog, to this day one of my favorite Amiga games. I played this one through a couple of times.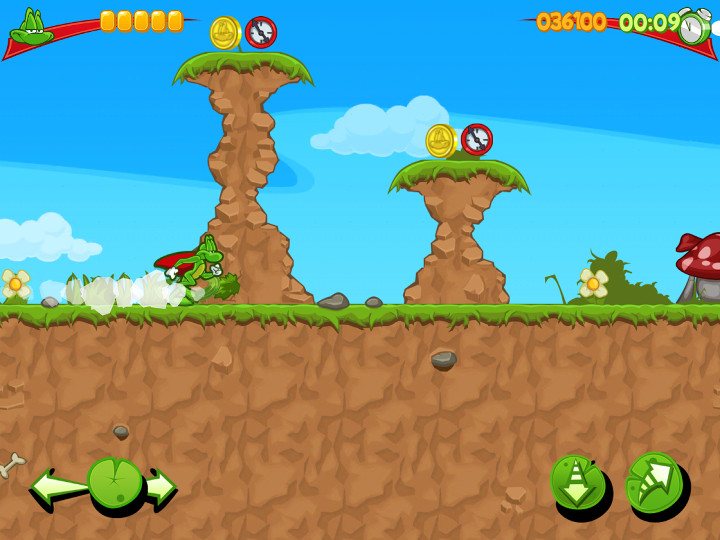 ---
The Bard's Tale
You are the Bard, a selfish rogue weary of pointless sub-quests and rat-infested cellars. Through magical song you summon characters to join you in battle, heal your party, and take damage on your behalf. Ready your weapon as you embark on a quest for coin and cleavage!
---
The King of Chicago
Chicago in the 1930s: Prohibition, power struggles and rampant crime. Only the toughest of the tough survive. Capone used to call the shots, but now he's up the river and Chicago is up for grabs. Violence, intimidation, bribery, treachery, and clout are your weapons as you battle the legendary Capone mob for control of the windy city.
Relive this classic Cinemaware game with all of the original storyline, characters, plots and sub-plots! A unique blend of role playing and strategy that pulls you emotionally into the story of Chicago's dark side. Popcorn not included!
I conquered Chicago, that much I remember. It seems like it didn't take me too long to get through this one. I'd love to see a modern version of this, with updated graphics etc. Considering Cinemaware seems to be busy doing just that with their catalogue of games, perhaps?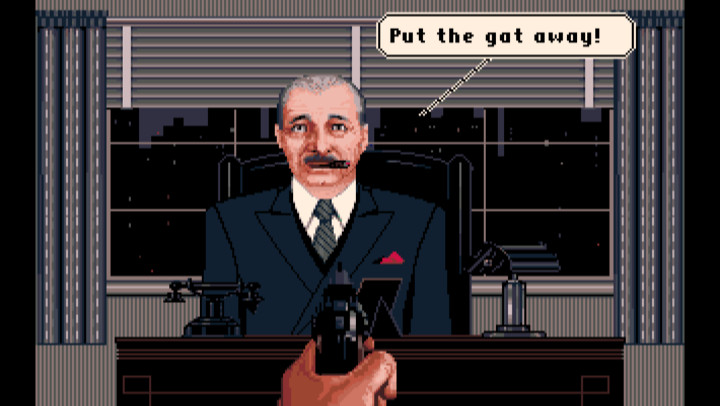 ---
The Player Manager
A full reboot from the football arcade and managerial game: Player Manager released on the Commodore Amiga and Atari ST in 1990.
You're playing as an International class football player that takes charge of a third division club as Player Manager. His brief is simple – Bring Back The Glory Days. His success depends on his playing skills on the pitch and managerial skills in devising winning tactics, acquiring the right players from the transfer market and building a team worthy of the highest honours.
The mix between management and arcade is the best to have appeared in any soccer game, making it enthralling and addictive. There is a whole slew of extra options and choices that, added together, make this an unique managerial game. If you did own Kick Off, Kick Off 2 or Player Manager then this is a must have game. If you didn`t own Kick Off or Player Manager then you`re missing the most revolutionary soccer management game ever created. This is the most fast paced soccer game ever developed and with the most accurate ball control and physics.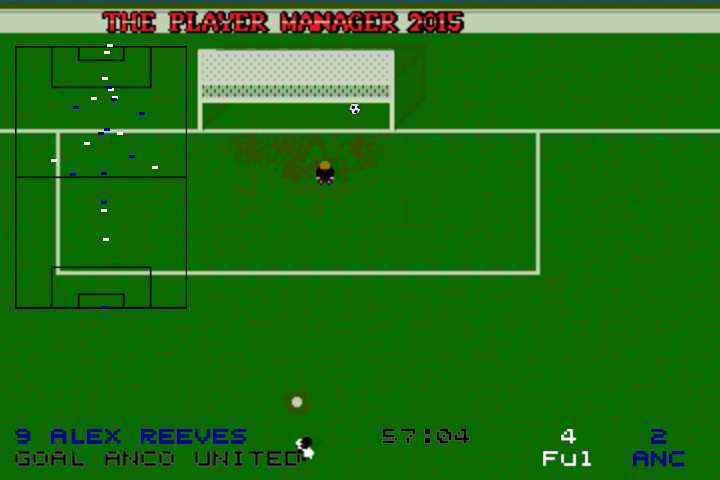 ---
Wings (original) and Wings Remastered
Originally released in 1990, Wings! was a breakthrough and memorable game on Amiga.
It's World War I and you set out to join the 56th Squadron to fight against Germany. First you must prove to Col. Farrah that you have what it takes, before he trusts you with the squadron's journal.
As you progress through missions, trying desperately to keep yourself alive against the Fokker scourge, the journal recounts the horrors and realities of war, whilst also celebrating the victories and progress.
Wings! has been faithfully emulated for play on modern devices, with easy-to-use controls and all of the original content. Relive happy memories and battle your way through the Great War in the skies over Europe!
Wings, one of my all time favorites. It pulled me in with the story line and the different game modes. I'm anxiously awaiting the remastered version to hit Android. Incidentally, the day after this post was originally published, the remastered version was released. Highly recommended!
---
Wings of Fury
WINGS OF FURY– A GAME OF EXPLOSIVE, RETRO INSPIRED WW2 AIR COMBAT
Take To the skies in this modern re-make of the 80's arcade classic "Wings Of Fury".
Wreak havoc on enemy forces with your selection of powerful weaponry. Battle your way through two vastly different episodes and a huge variety of levels in the classic F6F Hellcat, enjoying intuitive on-screen controls & addictive gameplay.
Another classic for me. I spent many hours flying around with this little plane.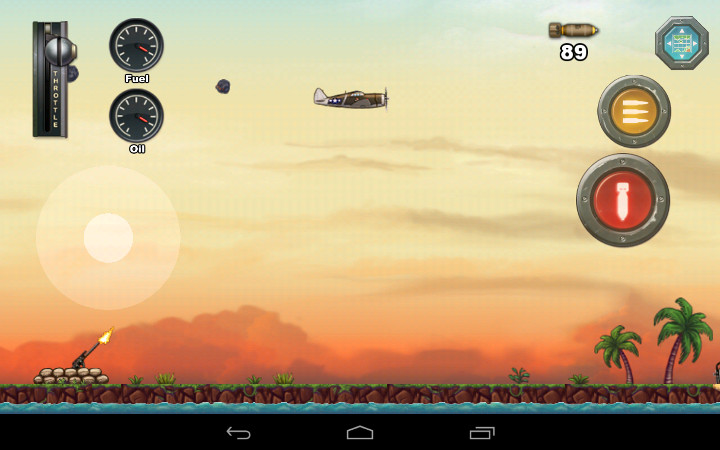 ---
Worms 2: Armageddon and Worms 3
Grab your grenades and prepare for battle, as the worms are back, bigger and better than ever in Worms™ 2: Armageddon! The best-selling turn-based-strategy blast-a-thon is now available on Android, with new weapons, brand new customisation options and of course, more explosions!
The original Worms was like another world to me, a different kind of game play that was funny and competitive. Again, many hours with friends just blasting each other out of the sky.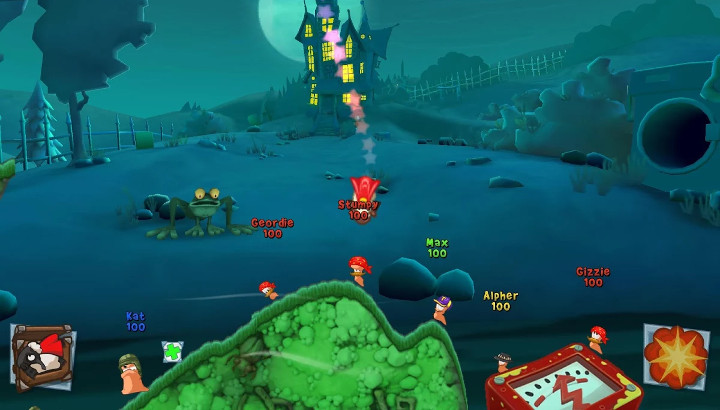 ---
Z Origins
In the colorful strategy game The Bluecoats – North vs South, you play the head of one of the armies of the Civil War. Your aim is to conquer American territory !
This is a remastered version of the game that was released in 1990, with improved graphics and user-friendliness that are up to current standards.
✔ Head up the Yankees or the Confederates, and destroy your enemy!
✔ Taking up positions, capturing states, assaulting and capturing enemy forts, attacking trains and protecting your railroads …
✔ Capture the port to use the reinforcements coming from Europe.
✔ Protect yourself from storms
✔ Be wary of those Indians in the war and those Mexican bandits … if you don't, you'll be in trouble!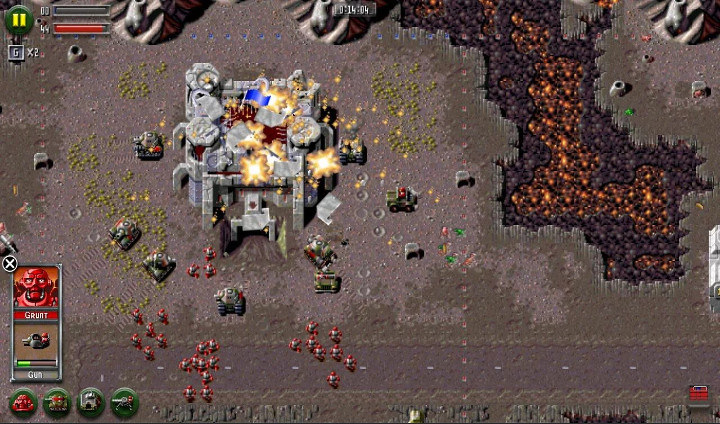 ---
Although the number of converted or ported games are increasing every year, there is obviously no substitute for playing the original Amiga games. This can also be accomplished using a variety of Amiga Emulators and the Amiga Forever licences ROMS. Adventure games in particular can also be played through ScummVM but that is a post all in it's own.
The above list is by no means complete so if you can think of others that would fit (or some of those on the list that really don't belong here), please let me know, just leave a comment!
I would also love to know what your favorite Amiga game overall was.