As a blogger and writer, the tools I use to write have varied over the years. Whether it be hardware or software, I'm always on the lookout for ways to improve my toolbox. For years, I used primarily native software on Windows and Linux and although I still do, as Chromebooks have found their way into my house I have explored what's possible with just web-based applications. With this post, I'd like to share some of the apps I've found that are web-based, apps that should work on your Chromebook as well as any other computer with a modern browser.
The below list is not a conclusive list, and if you have others you think would work, please drop a comment at the end.
1. Google Docs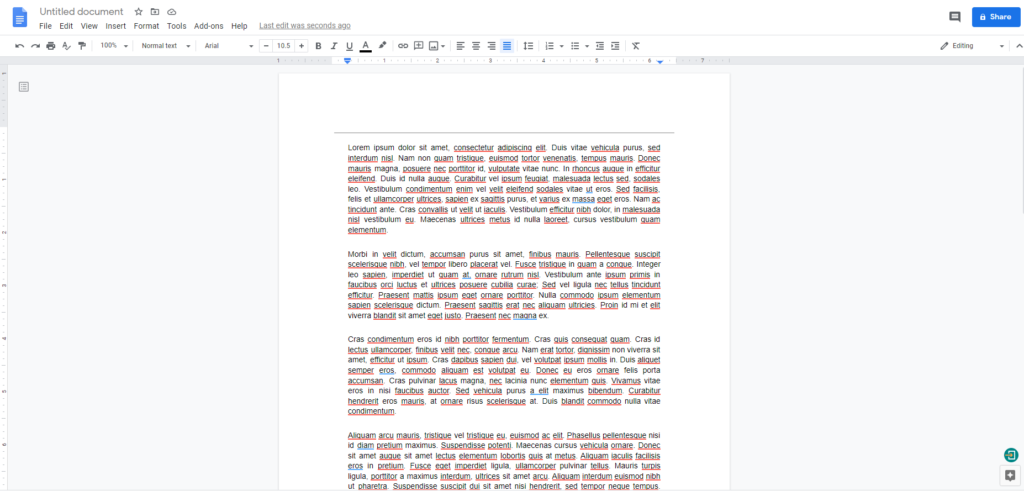 Any list of writing apps for ChromeOS must start with Google Docs. It is, after all, part of the Google ecosystem and the primary productivity suite for Chromebook users. It's free, it's powerful and if you're used to writing in regular writing applications such as Word or LibreOffice, it won't take long to get used to. Add to that powerful collaboration features, it's without a doubt the place to start if you're a writer.
Price: Free
---
2. Evernote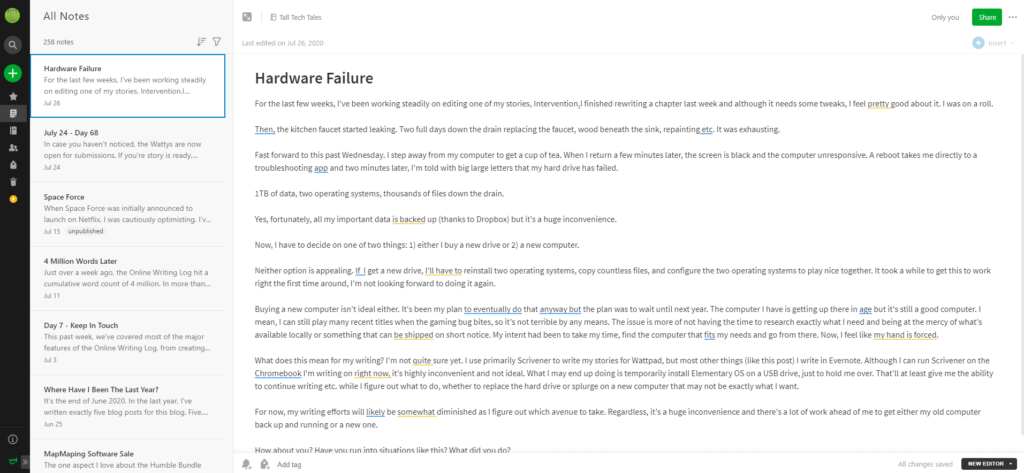 Evernote has been around for a long time. I've used it as one of my primary note-taking apps for years on both mobile, web, and desktop. It's a powerful application that works well on a Chromebook. Evernote native applications are also available across a variety of platforms, including Windows, Android and so on, which makes it easy to keep your notes in sync between devices.  Note that the number of devices you can sync between is limited on the free tier.
Price: free, with premium starting at $7.99.
---
3. Wavemaker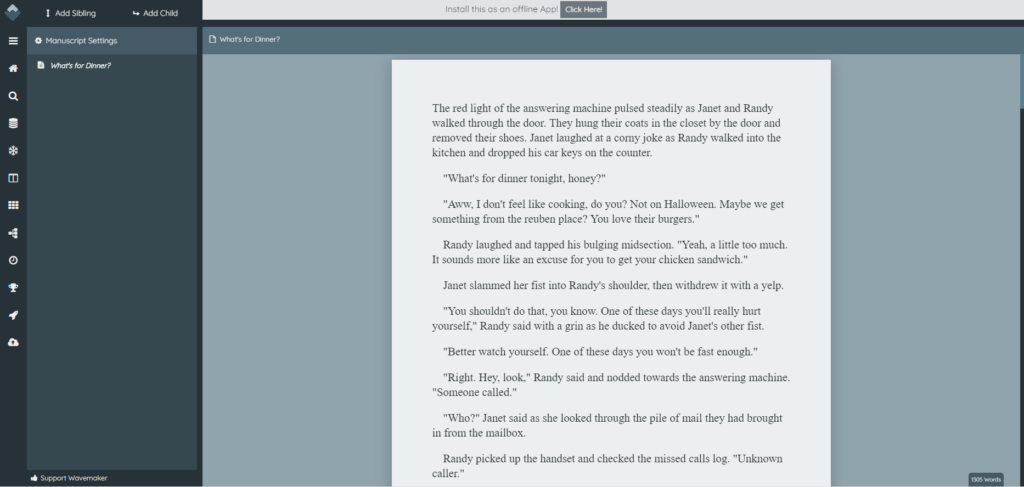 When I purchased my first Chromebook, Wavemaker was one of the apps that came pre-installed. Considering its support for Google Drive, this isn't surprising. Wavemaker contains a regular editor like every other writing application but it also contains a number of other features. The snowflake method, a favorite of mine, is supported, as are mind maps, timelines, and several other ways that you can use to plan out your novel. Add to that several export options from Word, markup, RTF, and even Ebook, Wavemaker is a solid free option for those looking for a simple editor to get their writing going.
Price: Free
---
4. True Novelist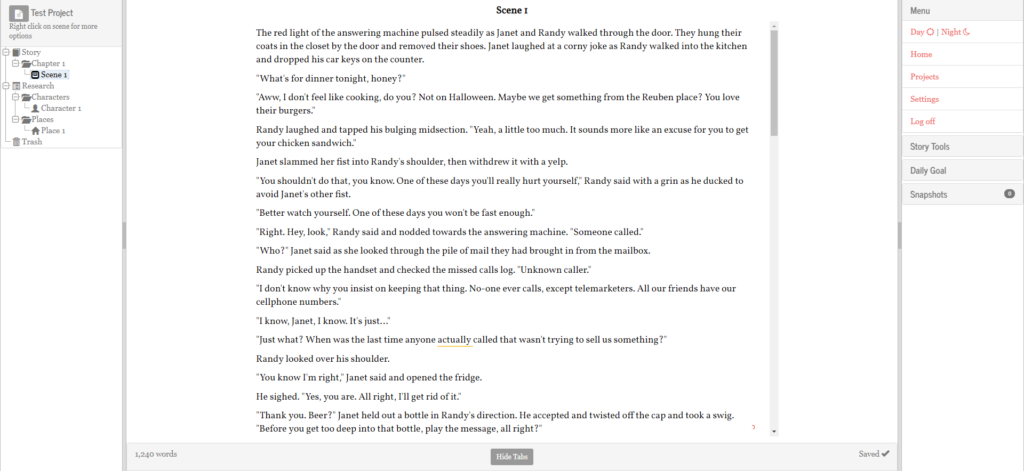 True Novelist is another application that reminds me a little of the Scrivener, although more simple. Your story is organized in folders, which allows you to keep chapters in one folder, character information in one folder, other research in a third, and so on. You can also set daily writing goals to keep an eye on your writing progress. At the time of writing, the only export option for your story is HTML.
URL: https://www.truenovelist.com/home/
Price: Free
---
5. Novlr
Novlr is a more feature-rich application for those looking for something beyond the more bare-bones editors. Beyond the ability to split your story into chapters and a dedicated notes section, Novlr can also import text from various formats, including plain text, Word, and open document formats while being able to export as an Ebook. Sync option with both Google Drive and Dropbox provides a good way to keep your writing saved outside of the app. Novlr also includes guidance on grammar, from spell check to grammar enhancements built-in. Another unique offer from Novlr is a built-in writing course, which offers a way to teach you how to write should you be unsure. Like most other writing apps, Novlr also has a robust set of stats about your project, writing streaks, and goals.
URL: https://novlr.org/
Price: Free two week trial, $10/month or $100/year ($8.33/month)
---
6. Writing Analytics
Writing Analytics is a relatively new app that appears to have launched only this August. Its focus is on writing, the website touting that it features distraction-free writing that doesn't quite have the traditional setup of documents, instead focusing on what they call sessions. WA also has what appears to be a solid suite of analytics to help you review your writing performance, as well as project planning tools to help you stay on schedule. Should you favor sprints, there's also an option to set a timer for your writing session. Overall, Writing Analytics seems like a solid option.
URL: https://www.writinganalytics.co/
Price: Free 14-day trial, starting at $7.5/month for a year
---
7. Squibler

Squibler is a feature-rich alternative to platform-centric applications. It includes the standard chapter and sub-chapter layout seen in so many other applications, as well as integrated note-taking. You can select from over 30+ included outlines for your writing project and then easily drag-and-drop story elements around on a board similar to the one featured by desktop applications like Scrivener. Included is also a grammar checker and the ability to sync your writing to various cloud storage solutions, like Google Drive, Dropbox, and the Desktop app. Squibler also supports collaborative writing
Price: Free two week trial, $9.99/month after that
---
8. Novelize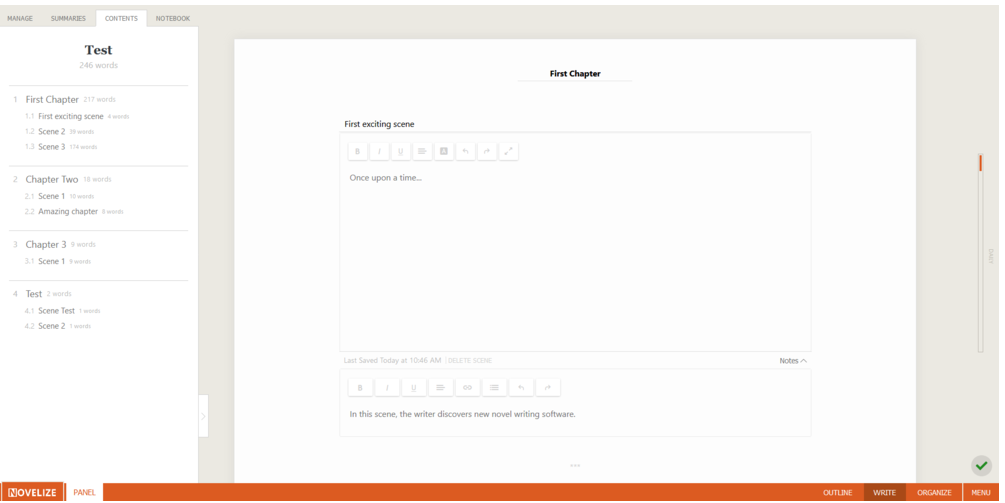 Novelize features the standard editor and chapter layout most web-based writing applications use and includes the ability to keep track of important notes related to your novel By design, the editor is decluttered to encourage you to write more. Notebooks can also be shared between novels for those of you that are writing multiple stories in a series. Novelize is one of the few applications I've seen specifically advertise dark and light themes, suitable for those that write early in the mornings or late at night. Exporting features include Word formatting and the ability to download your outline and notes. Novelize also supports grammar plugins like Grammarly and ProWritingAid.
URL: https://www.getnovelize.com
Price: 17 day trial, $45/year
---
9. Ginko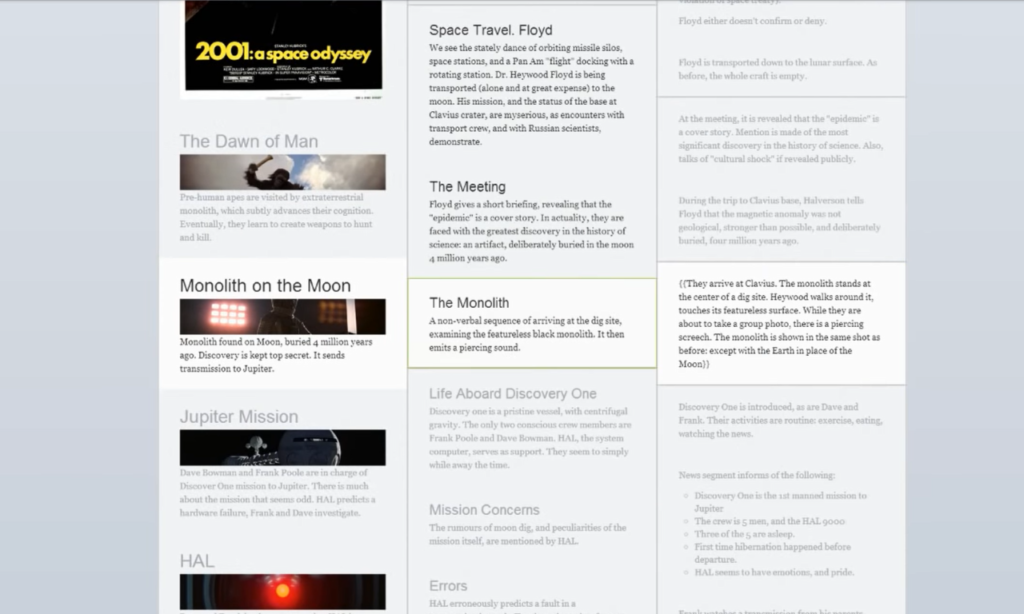 Ginko is a non-traditional writing app. Instead of featuring the classic text editor layout, Ginko is centered around expanding your writing project by adding cards. At its core, think of it like this: take the traditional chapter and scene layout and add them to cards organized in columns, side by side, as in the screenshot above. Each column to the right contains additional details for the entry in the column on the left. You can drag and drop to easily move content around.
Since the concept is a bit different from many other apps, check out the introductory video below.
Price: $12/month, or set your own price ($2-$12/month)
---
10. Calmly Writer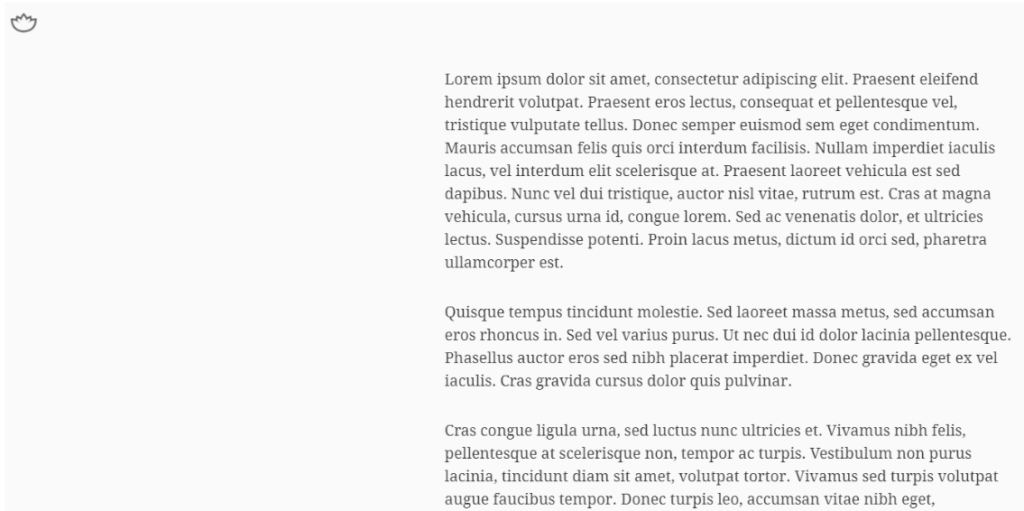 Sometimes more is less. The concept of Calmly Writer is to provide a simple canvas to work with free of all distractions. You can still use the traditional formatting many are used to when writing text. You can also insert pictures should you so desire. Calmy Writer also has a dark mode, should you prefer to write when it's dark around you. It's a simple application intended for writing.
URL: https://www.calmlywriter.com/
Price: Free
---
11. Dabble

Dabble advertises itself as Scrivener without the learning curve. It includes the classic chapter and scene structure, the editor, and a column on the right of the screen for notes and such. There's also room to dive deeper into the plot of your story with Dabble's unique plotting tool, inspired by J.K. Rowling's plotting methods. Easily write anywhere through the use of desktop apps, web apps, and mobile apps. Dabble also offers the ability to set goals to help you achieve your writing goal.
URL: https://www.dabblewriter.com/
Price: 14-day trial, $5/month
---
12. The Quill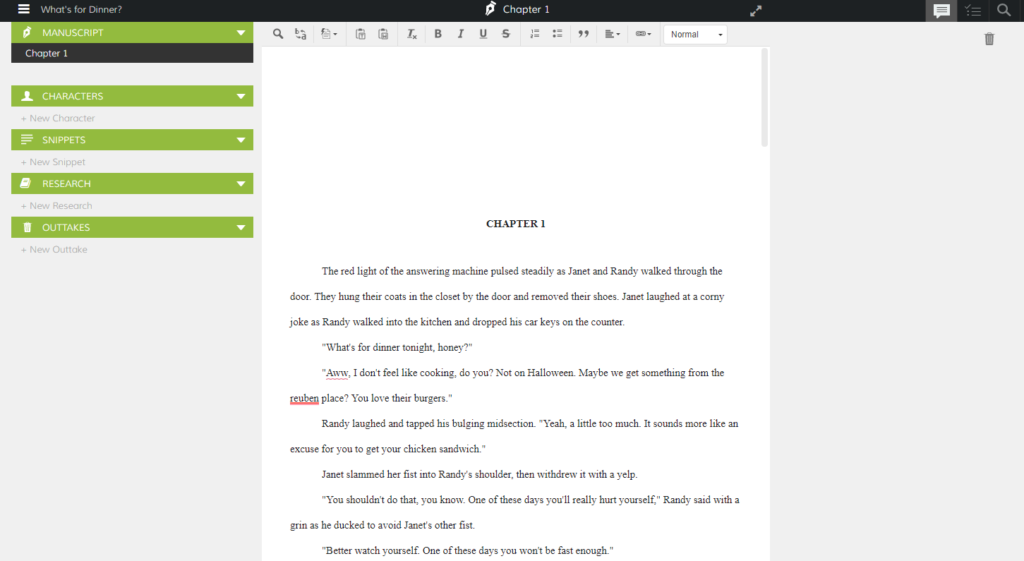 Another web-based writing app, The Quill was created specifically for novelists. It includes features to help you write better, such as spell checker and dictionary features. You can also create character profiles and perform chapter length comparisons to see how chapters compare to each other. To-do lists, the ability to drag-and-drop chapters, add comments and universal search are other features included. Finally, you can also see your writing progress from week to week using the built-in writing stats. 
Price: Free
---
As I mentioned in the introduction, if you know of another application that would be great on a Chromebook or just in a browser, drop a comment below and I'll consider adding it.
Also keep an eye open for my list of desktop writing apps for Windows, Mac etc. I'll also take a peek at what's free out there compared to commercial software for those that prefer to stick to free tools. There are, after all, a fair amount of those as well.
Then I'll be going through the apps above for a more in-depth review of each. That'll be coming steadily throughout the fall and winter. You'll get a better idea of what to spend your hard-earned dollars on and what to skip.